Integrated Single Electricity Market delayed by IT issues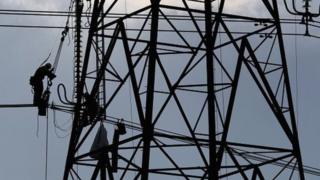 The start date for Ireland's new single electricity market has been delayed for three months due to IT issues.
The Integrated Single Electricity Market (ISEM) is designed to create more competition and put downward pressure on wholesale prices.
It was due to go live on 23 May, but is now expected to launch on 1 October 2018.
The delay follows a series of meetings between the grid operators on both sides of the border.
The decision to postpone the launch has come from the utility regulators north and south of the border.
Robin McCormick, general manager, of SONI, the Northern Ireland grid operator, said the delay was prudent.
"Our immediate priority is to work with all of the market participants to address their concerns," he said.
"It will facilitate the completion of final testing of the core ISEM software. It will also allow market participants to ensure that their IT systems are ready.
"In March the ISEM programme office reported to the SEM (single electricity market) committee that there continues to be a number of key IT defects that need to be resolved by third party vendors in the run-up to market go-live."