Teenager who attacked mother spared further prison time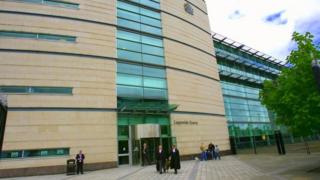 A 19-year-old man who stabbed his mother was spared further time in prison on Tuesday after serving 14 months in custody.
Lewis Goodall admitted a charge of assault and causing actual bodily harm at his home on Donard Street, Belfast, on 26 August 2016.
Judge Geoffrey Miller QC called the attack "deeply disturbing".
Goodall, whose mother supported him in court, was sentenced to two years probation.
Judge Miller told Belfast Crown Court that the sentence was "not an easy option" and said that any offending within the two-year period would result in Goodall being sent to Hydebank Young Offenders Centre.
The defendant has 28 previous convictions.
'Vicious assault'
The court heard that Goodall had returned to the house on the morning of the attack covered in blood.
Prosecuting barrister Philip Henry said Goodall's mother noted he smelled of alcohol. When she asked him what happened he said he had been hit over the head.
Mr Henry then told the court that when Goodall was refused money, he punched his mother and went to the kitchen to get a knife.
Goodall then ran at his mother with the knife. She sustained minor injuries and managed to escape from the house, running to a neighbours.
Defence barrister Richard McConkey told the court his client's mother had withdrawn her statement and said Goodall had already served 14 months in custody.
Passing sentence, Judge Miller said it was clear from reading reports compiled on Goodall that he was "remorseful, shameful and quite clearly deeply regrets... the violent assault upon his mother."
The judge also told Goodall he had to attend alcohol and drugs counselling programmes.