Ashbrooke Care Home closure appeal withdrawn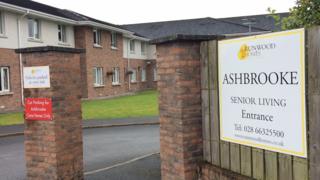 An appeal against the closure of a County Fermanagh nursing home has been withdrawn.
Ashbrooke Care Home in Enniskillen was forced to close last August because of care failings described as "the worst ever seen" by inspectors.
In September, Runwood Homes, which operated it, lodged an appeal to the Care Tribunal.
However, on 9 April this year Runwood withdrew the appeal, and four days later the proceedings were dismissed.
Ashbrooke had 40 residents at the time of the closure.
Regulators took the "unprecedented" step to close it last summer after an urgent inspection.
The failings, including dirty facilities and a "strong odour of faeces and urine", posed a serious risk to life, the regulators said.
Welcoming the withdrawal of the appeal, Sinn Féin Fermanagh South Tyrone MLA said: "The decision to close and make an enforcement decision doesn't come lightly from the regulator so it was clear that there were serious concerns.
"It is just a pity that it has taken over seven months for us to get to this stage. It would have been better if that time had been used addressing the problems rather than pursuing an appeal."