RHI inquiry: Adviser 'did not intend to advantage cousin'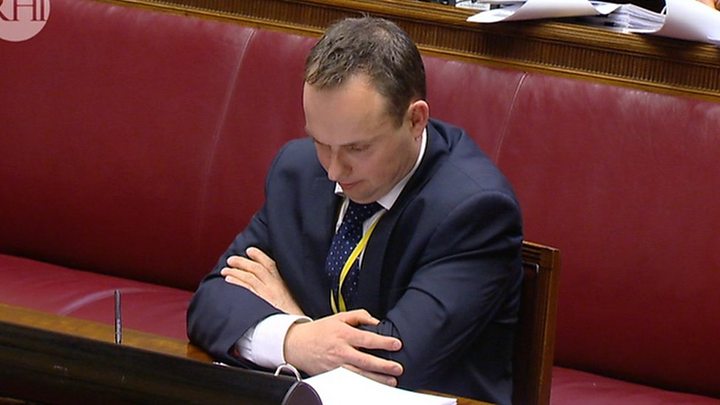 A former DUP adviser has said he did not send a confidential RHI document to his poultry farmer cousin in order to advantage him, the public inquiry has been told.
Andrew Crawford apologised for sending the consultation document, which was still in draft form and was not signed off by the minister, Arlene Foster.
He accepted he should not have done it.
But Dr Crawford said the intention was not to help his family get into a scheme which was "too good to be true".
Counsel to the inquiry Joseph Aiken suggested that was one potential interpretation of what had gone on.
Dr Crawford was special adviser (spad) to former minister Mrs Foster, then the enterprise minister, during the green energy scheme's design and implementation.
The document was sent to Dr Crawford's cousin Richard Crawford in July 2013.
The pair had met at Clogher Mart and a discussion had ensued about Richard Crawford's new poultry unit and the opportunity to heat it using the RHI (Renewable Heat Incentive) scheme.
Dr Crawford said he knew he had the draft public consultation on his work Blackberry and had forwarded it from his departmental email account for his cousin's information.
He said he had "kicked myself" many times over that decision which he described as "lazy".
'I shouldn't have done it'
Dr Crawford did not tell the inquiry about the email in his first witness statement. He said he did not have access to his work email when that statement was taken.
He only remembered when he was told the email had turned up via his cousin through the inquiry's discovery process.
"It was not a matter that he had a couple of weeks to get into the scheme or not get in," Dr Crawford said.
"This was a consultation document that was going to be in the public domain and he seen it a few weeks in advance of that.
"It was wrong. I shouldn't have done it, but in no way was Richard advantaged through this, nor did he give me any information in terms of changing policy or setting policy direction."
He said he was not in the habit of circulating confidential government documents and did not believe he had done it on any other occasion.
When asked why he had not paused before he pressed send he replied: "I can't answer that".
He said he did not tell Mrs Foster and accepted she would not have been happy about it.
It has emerged that Dr Crawford also sent his cousin confidential details of upcoming changes in RHI tariffs in 2015.
He will be asked questions about that when he comes back before the inquiry in the autumn.
Burn to earn flaw
RHI offered financial incentives if firms switched to renewables.
But the fuel actually cost far less than the subsidy they were receiving, effectively meaning that users could earn more money by burning more fuel.
Earlier, Dr Crawford insisted he never understood the RHI scheme's "burn-to-earn" flaw.
He said he always assumed the tariffs were meant to incentivise firms to switch to more expensive biomass boilers.
But, he said, he never realised tariffs allowed people to profit by running boilers unnecessarily.
He accepted that his witness statements were contradictory on his understanding of the tariff position and he apologised for the confusion.
He was offered the opportunity to clarify his position.
"I didn't envisage that the scheme would be structured in such a way as to pay people to earn as you burn.
"I just assumed, wrongly now, that there would be checks in the system to stop that happening.
"I didn't think the scheme would be set up to allow people to take advantage of it and effectively waste heat."
Dr Crawford also said that he had never been told that an overspend in the scheme would have implications for his departmental budget.
Earlier, inquiry chairman Sir Patrick Coghlin cautioned the public that if they heard something "sensational" in media coverage they should seek out the evidence themselves.
He said the inquiry had gone to great lengths to ensure there was a live stream of it.
He said he was not criticising the media. but it was difficult to assess a witness' contribution until they had finished their testimony.
"That's the only fair way to do it," he said.
At that point, Dr Crawford suggested that some elements of the media were being "selective" in their reporting.
Sir Patrick stopped him continuing and said: "Dr Crawford I'm not inviting a comment from you, thank you."
Cross-departmental concern
Later, it emerged that Mrs Foster did not appear to have been sent the scheme regulations for her approval before RHI went live.
In her evidence to the inquiry, Mrs Foster has said she did not read them.
The inquiry was also told how a letter to the banks guaranteeing, or "grandfathering", renewable subsidies for 20 years had in fact been written by civil servants.
It was sent in January 2013 just after the RHI scheme started, at a time when banks were reluctant to lend due to the economic downturn.
The inquiry heard the letter had been prompted by cross-departmental concern about support for renewables.
It had been written by officials in the Enterprise Department's energy division and approved by Mrs Foster without amendment.
The inquiry also heard about a contact from industry over the issue of multiple boilers and the "perverse incentive" to use them to generate income.
It came from a firm called REM, which was offering a poultry-litter-to-heat system for sale on farms.
The owner wrote to the Environment Department in the months after RHI started claiming the scheme was disincentivising farmers from buying his technology.
No reply to minister
The letter was passed to the Enterprise Department, which said claims that multiple smaller boilers were eligible for separate subsidies was wrong.
Dr Crawford told the inquiry that was the advice he was given by officials.
Inquiry chair Sir Patrick Coghlin said that if he had read the regulations and the guidance documents he would have realised it was incorrect.
"Nobody answered this man's question, because nobody understood it," Sir Patrick said.
The inquiry was also told that the Enterprise Department had not replied to a Whitehall minister who was alerting it to the application of cost controls in the Great Britain RHI scheme.
It happened at the end of May 2013 as officials here were preparing to consult on the next stage of the Northern Ireland scheme.
Greg Barker, a minister in the Department of Energy and Climate Change, wrote to Arlene Foster to say they had used a cost-control mechanism called degression for the first time.
'Dysfunctional' department
It is a trigger that kicks in to divide up the available pot of subsidy amongst an increasing number of applicants.
But, Mrs Foster did not see the letter after officials in her department wrongly suggested it was similar to one she had answered months before and did not require a reply.
Dr Crawford said that was not the case.
He said it contained important information that should have been flagged to Mrs Foster.
He also said that she would also have replied to any minister as a matter of professional courtesy.
Sir Patrick Coghlin said he found it hard to believe that the letter could be held up and not make its way to Mrs Foster at the behest of an official.
Inquiry counsel Joseph Aiken said if Mrs Foster was not seeing Whitehall correspondence then that was evidence of a "dysfunctional" department.
Dr Crawford agreed that it should "not have happened".