Rugby rape trial: Judge Patricia Smyth considers case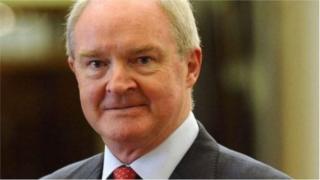 The judge who oversaw the recent case involving two Ulster rugby players has been asked for her views on how rape trials are conducted.
The lord chief justice is involved in discussions with senior legal figures - including Judge Patricia Smyth.
They are considering if changes need to be made which do not need legislation.
Meanwhile, Joe Rice, solicitor for one of the accused - Stuart Olding - has called for all rape and serious sexual assault cases in NI to be reviewed.
Mr Rice welcomed the announcement by the lord chief justice that a consultation is taking place to see whether any lessons can be learned from the trial, within the exiting legislative framework.
However, Mr Rice said more needs to be done.
After the recent high-profile trial involving Paddy Jackson, Mr Olding and two other men, there were calls for reforms.
All four men were found not guilty.
The reforms would give better protection to defendants and complainants in rape cases.
There was a call afterwards for consideration to be given to granting defendants in rape cases anonymity.
There were also calls to give complainants better protections to ensure their right to anonymity is not breached.
Judge Patricia Smyth oversaw the recent nine-week trial and is now being consulted on any lessons learned.
A spokesperson for the lord chief justice's office said: "The LCJ has started discussions with the trial judge and senior crown court judges to see if there is anything the courts can do that doesn't require legislation."
'Matter of urgency'
Mr Olding's solicitor, Mr Rice said: "All rape and serious sexual assault cases currently awaiting trial should now be reviewed in Northern Ireland.
"A similar review is under way 'as a matter of urgency' in England and Wales as a result of cases going to trial and quickly collapsing.
"I would like to see a review of the work of the PSNI and its sexual crimes unit in relation to these cases which could be extended to encompass how our Public Prosecution Service deals with and reviews the evidence that it is provided with by investigating police."
Mr Rice said that defence solicitors have "genuine concerns" that police and prosecutors may not have the necessary systems or resources to get to grips with the way they handle evidence - especially electronic evidence.
"Those concerns include issues that potential key information taken from mobile phones, computers and social media is not being properly interrogated nor any of this is kept under sufficient review by police and prosecutors," he said.
"There has to be an 'improvement plan' to tackle these new 21st century societal developments."
Multi-media evidence
Mr Rice said a wide review of the system was required.
He said: "This should include reviewing training, developing specialist disclosure experts in every police police and providing all multi-media evidence to the defence digitally.
"Any review could include the above, as well as anonymity for defendants, jury procedures, victims' rights, etc.
"Change in our society, such as the rapidly increasing use of social media and mobile phone messaging, brings challenges that all parts of the criminal justice system in Northern Ireland have to deal with sooner rather than later."
A number of victims charities have joined forces to call for a review of how Northern Ireland's criminal justice system deals with cases of alleged sexual violence.
The joint call came from Victim Support NI, Women's Aid Federation, Nexus NI and the Men's Advisory Project.
They urged the authorities to take account of complainants' experiences throughout the prosecution process, including media reporting of trials.
They also called for the "low level of convictions" to be addressed.