Brexit: Coveney warns of 'difficulties' over border issue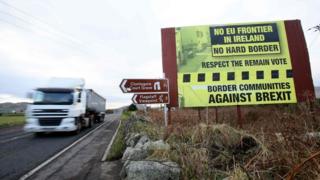 Ireland's foreign minister has warned that there will be "difficulties" in the Brexit process if there has not been substantial progress on the Irish border issue by June.
Simon Coveney was speaking following a meeting of EU Foreign Ministers.
EU leaders are due to assess progress on the border issue when they hold a summit at the end of June.
That will be "a very important date from an Irish perspective," Mr Coveney said.
He added that Ireland is "putting down a marker" that if there is not significant progress on the "backstop option" by then there will be "serious questions" about whether it will be possible to do it by October.
October is the presumed deadline for a withdrawal agreement which will give the UK a smooth exit path from the EU.
In March, EU leaders agreed to a 21-month Brexit transition period between March 2019 - when the UK officially leaves - and the end of 2020.
It is effectively a standstill deal which means the UK will continue to follow EU rules in that period and have unimpeded access to the single market.
However, the transition period will only be implemented if there is also a deal on the border.
In December, the EU and UK agreed that the border could be kept frictionless in three possible ways:
A comprehensive trade deal
A special arrangement for Northern Ireland which could involve technology or unique customs arrangements
The so-called backstop which could mean Northern Ireland or the UK as whole continuing to follow many EU rules
The UK has so far rejected the EU's interpretation of what the backstop means.
In February, the EU proposed a backstop which would involve the UK, in respect of Northern Ireland, maintaining full alignment with those rules of the EU's single market and customs union which support north-south cooperation.
The Prime Minister said she could never agree to that as it would "threaten the constitutional integrity of the UK by creating a customs and regulatory border down the Irish Sea".
Mr Coveney said there has been no progress yet on agreeing an alternative backstop option.
He said there there will be five more rounds of talks between now and the June summit.