Jackson and Olding return for Ireland not 'envisaged'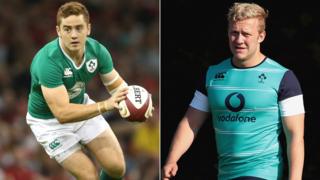 The chief executive of Ulster Rugby said he cannot envisage Paddy Jackson or Stuart Olding playing for Ulster or Ireland again.
Mr Jackson and Mr Olding had their contracts revoked "with immediate effect" at the weekend.
They were both acquitted of raping a woman after a nine-week trial that ended last month.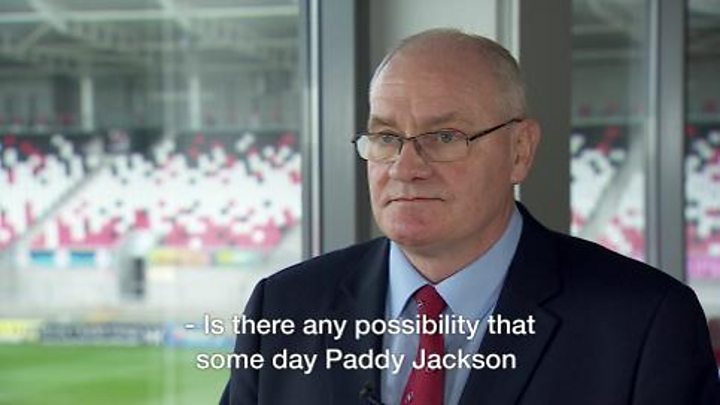 Mr Logan was speaking for the first time since Ulster revoked the players' contracts at the weekend.
Shane Logan said he did not foresee them returning to play for the province in the future.
"That is not something that is being envisaged," he said.
Asked if he expected Ireland to ever pick them again, he said: "The position is joint. It's a joint Irish and Ulster rugby position.
"The statement is clear and it is not something that we are contemplating."
Speaking to the BBC, he was asked about reports of financial settlement with the two players and speculation that Paddy Jackson received up to £300,000.
"It would be completing inappropriate to talk about contractual matters of that nature," said Mr Logan.
He insisted the decision to revoke their contracts was not dictated by the demands of sponsors.
"That is absolutely not the case. I'm glad to take the opportunity to dispel that myth," he said.
"This was a decision taken because the two guys in their own words admit that their behaviours fell short of what they knew were expected."
Mr Logan defending his own handling of what he described as "an incredibly divisive and traumatic affair" on and off the pitch at Ulster. He has been criticised by some former players.
'Position not at risk'
"My position is not at risk," he said.
He denied being the "invisible man" in the controversy following the trial and called for fans to unite behind the team.
Mr Logan also said that the IRFU and Ulster Rugby took into consideration some material that is not in the public domain into account when taking their decision to revoke the players' contracts.
However he said that in any contractual relationship between and employer and employee it is "not proper to disclose all confidential matters".
"We have done a lot of good work with players in terms of role modelling and we have got to keep building in that, reviewing on that to reduce the chances of players making bad decisions in future," he said.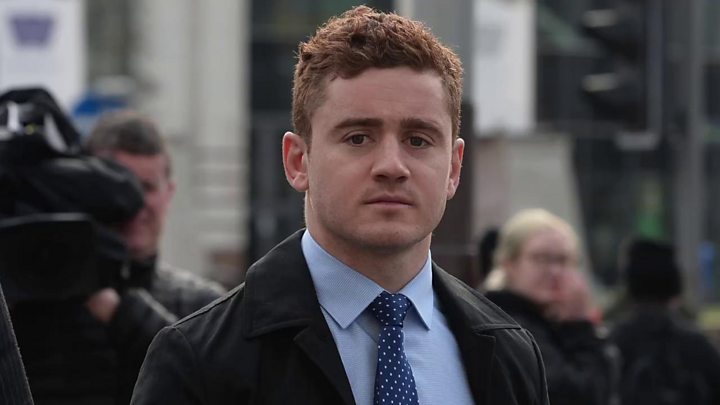 Mr Logan also said that "fractures" have occurred among volunteers, players and clubs as a result of the players' dismissal and that his job was to ensure that there was "an opportunity to unite".
Earlier on Monday the Ulster Rugby Supporters Club said it is keeping its options open on whether to protest the decision to terminate the contracts and is canvassing opinion from its 938 members.
While Mr Jackson and Mr Olding were cleared of rape, there has been controversy about social media messages and texts they exchanged.
Ulster's next match at Belfast's Kingspan stadium is against Glasgow, in the Pro14 championship on Saturday evening.
It is understood supporters have been asked to give their views by 17:00 BST on Monday.
'Considered response'
"Previously URSC (Ulster Rugby Supporters Club) had said it respected the judicial outcome and the review process," said the supporters club.
"Subsequently URSC asked that the review outcome be proportionate and in line with precedence.
"URSC will now examine the review outcome, and taking account of its members' views, will provide its considered response in due course."
On Sunday, members were sent an email containing a questionnaire.
The statement continued: "We would encourage as many members as possible to respond, to help the committee accurately reflect the feelings of URSC members and act accordingly."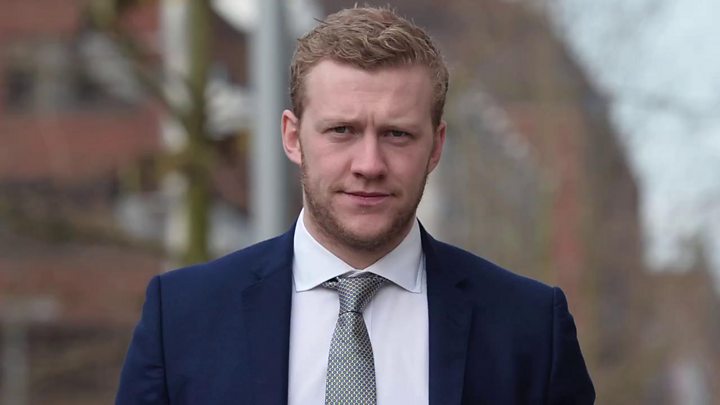 It is believed the questionnaire outlines a range of options, from protest action to taking no action, accepting what has happened and moving on.