RHI inquiry: Arlene Foster 'wrote blank cheque' for scheme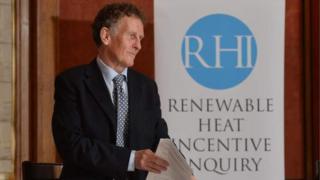 The RHI inquiry has heard that Arlene Foster effectively wrote a "blank cheque" for the scheme without knowing what the full cost would be.
Mrs Foster was enterprise minister when the green energy scheme began in 2012.
Inquiry member Keith MacLean expressed astonishment the scheme's regulatory impact assessment was signed off despite not containing a final bill.
He said it was "inconceivable" he would have signed off on a project without assurances about the cost.
RHI offered financial incentives if firms switched to renewables.
But the fuel actually cost far less than the subsidy they were receiving, effectively meaning that users could earn more money by burning more fuel.
The public inquiry into the scheme began in November 2017
Mr MacLean told Mrs Foster's former special adviser (SPAD) Andrew Crawford that he was expecting to be made aware of a lot of issues.
"Why would you not, when you don't see that information, advise the minister not to sign a blank cheque?" he asked.
Mr Crawford said he took comfort from the fact that scheme had been through internal audit which was meant to guarantee that it was value for money.
"I'm struggling to understand how you would have been comfortable - even if it was a one-off - not to have that number on the front of the document," Mr MacLean said.
Meanwhile the inquiry heard that a final step in the approval process had not been complied with.
Under departmental guidance Mrs Foster was supposed to get a last submission seeking "final approval" for the scheme before it was launched.
The Department for the Economy has now told the inquiry it can't find any such submission.
It is important because it would have contained a requirement, flagged up by the internal audit, for the minister to explicitly state why she was picking the RHI scheme over a much less costly upfront grant.
The difference in cost in both schemes was several hundred million pounds.
The responsibility to draw up the submission lay with officials, but neither the minister nor her SPAD were aware that the step was meant to be complied with.
Pointed exchanges
Earlier on Monday, there were pointed exchanges between Mr Crawford and the chair of the inquiry.
Inquiry chair, Sir Patrick Coghlin and Mr Crawford have had long discussions about the issue of note-taking at ministerial meetings.
There was a particularly sharp exchange when Mr Crawford described as "innuendo" a claim that civil servants had not minuted ministerial meetings.
The inquiry previously heard this was due to DUP and Sinn Féin sensitivities about freedom of information requests.
That evidence was given by the head of the civil service David Sterling.
Mr Crawford said it was a "great disservice" to the many civil servants who did take such meetings for this "innuendo that no notes were taken of meetings".
Sir Patrick interjected immediately: "This is not an innuendo, this is evidence of fact given to this inquiry by senior officials David Thomson and David Sterling.
"It's not an innuendo, so there's no need to use words like innuendo, that is a fact.
"Whether you knew it or not will be the subject of the report eventually, but that is a fact."
'Tesco shopping'
Mr Crawford said it was his belief that notes were taken by officials at any meeting involving a minister which he attended.
"I don't know what they were putting in their notebooks, maybe they were doing their Tesco shopping for that afternoon, I've no idea.
"But I do know that - every meeting in every department - there was a note taken of these meetings."
Civil service guidance required the production of minutes of ministerial meetings.
Sir Patrick said the only person who seemed to unaware that notes apparently had not been produced was Mr Crawford.
Mr Crawford said if meetings had not been minuted, it had not been at the request of the minister.
The two men also clashed over Mr Crawford's failure to read a technical report which was relied on when a key decision was taken to proceed with the RHI scheme.
The DUP special adviser (SPAD) said a huge number of submissions came up for ministerial approval on a range of technical matters and many had consultants reports underpinning them.
"I don't think any adviser in any department could have been expected to be over all of the detail."
But Sir Patrick suggested he was "misunderstanding" the question.
He said the SPAD was working on a novel and complex scheme and had a submission which said there were further issues to be ironed out.
He said, in that context, Mr Crawford ought to have been asking to see the technical report which informed the submission.
Mr Crawford said in hindsight he should have studied it in greater detail to ensure it was fully reflected in the submission to the minister and were "not at odds".
Sir Patrick said it was not a question of whether they were at odds: "It's a question of you learning something - simple!"
'Deliberately misleading'
Mr Crawford was an adviser to Mrs Foster during the time the RHI scheme was created, and followed her to the Department of Finance and Personnel.
During the afternoon session, Mr Crawford accused Mrs Foster's officials of "deliberately misleading" her about RHI.
He said a consultants' report was not properly reflected in an options paper presented to her.
'Additional work'
He said perhaps they had been committed to the RHI incentive because they had already done a lot of work on it and did not want to change course.
He also suggested that the grant scheme would have meant a lot more additional work.
Sir Patrick Coghlin suggested that if he was correct, the department was "broken".
Mr Crawford said it would not be fair to tar all officials with the same brush.