Conductor 'indecently assaulted' on NI train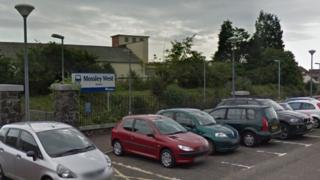 A train conductor says she was indecently assaulted by two men after challenging a group of rowdy passengers on the Londonderry to Belfast train.
A police spokeswoman said it happened on Saturday and an investigation has begun.
The conductor says she was grabbed by one man on the train and was also verbally abused.
She was grabbed again by another member of the group as the passengers got out of the train at Mossley West station in Newtownabbey, County Antrim.
'Appalling'
"The conductor was left extremely shaken and upset by the ordeal," police said.
"It is appalling that a woman was subjected to such attacks while simply doing her job. We are investigating and would like to hear from witnesses."
A Translink spokesperson said the company had a "zero tolerance policy when it comes to anyone that physically or verbally abuses our staff or customers".
Cash reward
"We will be working with the PSNI to fully investigate this incident, using CCTV to assist in identifying perpetrators and to support any prosecution process.
"We also offer a cash reward of up to £1,000 to anyone willing to go to court to give evidence that helps to secure a conviction."
Translink also said the conductor has been offered "appropriate" support.