A titanic number of visitors for top NI tourist spot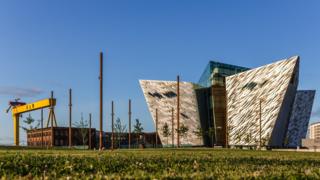 The Titanic Belfast tourist attraction recorded its busiest year to date for 2017/2018.
There were 841,563 visitors through it's doors, marking an increase of 13% year-on-year.
The rise is reflective of increasing visitors numbers to Northern Ireland.
One million people visited the Giant's Causeway in 2017 with visitor numbers to the County Antrim attraction increasing by a third since 2013.
According to Visit Belfast overnight stays in the city have more than tripled since the Good Friday Agreement in 1998, and spending has also risen from £84m in 1998 to £332m in 2017/2018.
The Titanic centre itself is the largest Titanic exhibition, and was crowned the World's Leading Tourist Attraction at the World Travel Awards in 2016.
Titanic Belfast chief executive Judith Owens said since the attraction opened they had more than four million visitors from over 145 different countries.
"Now over 85% of our visitors are coming from outside Northern Ireland and one in five people are now visiting Ireland because of Titanic Belfast".
John McGrillen, chief executive of Tourism NI, said Titanic Belfast "has been a catalyst for wider economic growth".