Minister's concern over Northern Ireland broadband project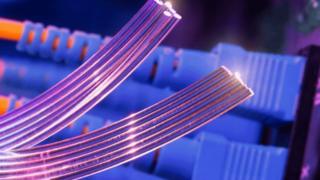 The minister for digital has said she is concerned that the £150m pledged for ultra-fast broadband in Northern Ireland under the DUP-Conservative pact may not be spent within the intended two-year timeframe.
Margot James also told BBC NI's Inside Business programme that the lack of a Stormont Executive meant the project was being delayed.
"Two years is ambitious to actually spend this £150m in terms of getting operability right up from nowhere to full delivery," she said.
"I am concerned about it."
Ms James added: "It is great that the money is there, but it is a question of getting the contracting in place, the delivery under way, that is what is being held up by the lack of political leadership currently."
The £150m was pledged in June 2017, as part of a £1bn deal that would secure the Democratic Unionist Party's 10 MPs backing for Theresa May's minority government in Commons votes.
Talks aimed at restoring power sharing in Northern Ireland collapsed in February.
The Northern Ireland Executive collapsed in January 2017 in a bitter row over a botched green energy scheme.
However, disagreements over same-sex marriage and Irish language legislation are now two of the main issues preventing the restoration of devolution.
Inside Business will be on BBC Radio Ulster at 13:30 BST on Sunday.