TUV: Karen Bradley is 'dragging her feet' on direct rule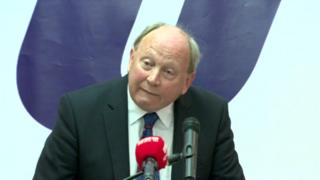 The TUV (Traditional Unionist Voice) leader Jim Allister has called on the Northern Ireland secretary of state to push ahead with direct rule.
He also accused Karen Bradley of "dragging her feet" on the issue.
He told his party conference in Cookstown. County Tyrone, that direct rule from Westminster was better than no rule or "Sinn Féin rule".
The TUV leader also attacked the DUP "for trying to find a sticking plaster" to keep Sinn Féin in government.
He said it was clear that mandatory coalition was "unworkable" and he urged DUP leader Arlene Foster to use her political "muscle" over the Conservative Party to implement direct rule.
"Mandatory coalition ensures there can be no government without Sinn Féin and this has created the politics of ransom.
"Only a coalition of the willing stands any chance of success, trying to patch together a system that will never work is utter folly," he added.
In direct message to the secretary of state he said, "get on with it lady, it's time to bring us government".
Mr Allister also described the events this week marking the 20th anniversary of the Belfast Agreement as a "celebration of failure".
He said the agreement was now dead and he called for greater cohesion among unionists to find an alternative.
Mr Allister said Brexit was much more important than devolution and he said it needs to be an "emphatic leaving".
But he accused Dublin of trying to bully the UK government into placing a border down the Irish Sea which he said would never be allowed to happen.
Talks aimed at restoring power sharing in Northern Ireland collapsed in February.
The Northern Ireland Executive collapsed in January 2017 in a bitter row over a botched green energy scheme.
However, disagreements over same-sex marriage and Irish language legislation are now two of the main issues preventing the restoration of devolution.