Keady principal resigns over 'bullying and harassment'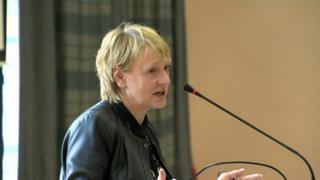 The principal of St Patrick's High School in Keady has resigned over what she claims was "a vicious campaign of bullying and harassment".
Pat McGuckian said she had received a series of malicious and anonymous letters since January 2017.
The school has exam results well above the national average.
However it is also the subject of investigation by the exams body CCEA into allegations of cheating.
BBC News NI has spoken to Ms McGuckian but she declined to be interviewed.
In a statement, she said that she felt she had no choice but to resign from her position.
'We will not stop'
"This is due entirely to a vicious campaign of bullying and harassment which has been ongoing for the last sixteen months and coming from particular sources," she said.
"My own health and that of my family members has suffered as a result."
BBC News NI has obtained some of the recent letters.
A letter addressed to her in February 2018 said that "we will not stop this campaign against you" and tells her she is "no longer wanted" in the school.
'No friends'
A letter she received in March 2018 goes further stating: "We will leave your reputation as a school leader in ruins.
"You have no friends and supporters in our school."
It also said that some staff were "willing to stick a knife in your back at every opportunity".
The letters BBC News NI has obtained are signed "St Patrick's High School INTO members".
There are 47 Irish National Teachers' Organisation (INTO) members in the school.
However, in a statement the INTO union said that the letters were not from them or from members acting with their approval.
"INTO is unequivocal in its denial of any involvement in this activity and has sought at every opportunity to assist the school authorities and the CCMS to bring it to an end," it said.
"Anyone with information that might lead to the identification of the writer or writers should make that information available to the appropriate authorities."
According to correspondence seen by BBC News NI, Ms McGuckian reported the letters to the PSNI in January 2018.
Request for fingerprints
In response, the PSNI investigated and at one point considered asking all staff at the school to give fingerprints although it is understood that this has not happened.
Inspector Kieran Quinn said: "Police are aware of this matter and enquiries are ongoing."
The chair of the school's board of governors Brian Hughes said to BBC News NI: "I can state categorically that there was no pressure whatsoever put on Pat to resign."
It is understood that the investigation by CCEA into the alleged cheating in some GCSE exams at the school in the summer of 2017 is due to conclude shortly.
Investigation
CCEA will then report the findings to the school's board of governors and CCMS and, depending on those findings, may make recommendations about how exams are supervised and taken in the future.
It will be up to the governors and CCMS to decide if any further action is then required.
In a statement CCEA said it did not comment on individual malpractice cases.