Five arrests in "significant" anti-INLA operation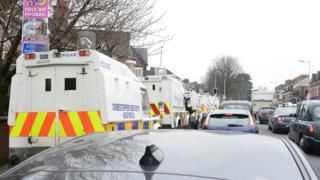 Five people have been arrested following a police operation targeting republican paramilitary group the INLA.
The arrests followed 12 searches in Belfast, Lisburn, Crumlin and Newtownabbey, County Antrim, on Friday.
Three men were arrested under the terrorism act and a fourth on suspicion of human trafficking and controlling prostitution.
The operation targeted extortion, paramilitary-style assaults and prostitution, police said.
More than 200 PSNI officers took part in the Paramilitary Crime Task Force operation supported by the National Crime Agency and HM Revenue and Customs.
The operation involved officers from five different police stations across three different police districts.
The headquarters of the IRSP (Irish Republican Socialist Party), which is aligned to the INLA, on the Falls Road in west Belfast were searched.
The party said that three of those arrested in the operation were members.
Another IRSP member, Gerry Foster, confronted police when he was barred from entering the building.
He labelled the searches as a "publicity stunt".
"It's a balancing act - over the last number of weeks, loyalist homes have been raided," he said.
"They don't even need this amount of jeeps to raid this building, two jeeps would have done maximum.
"This is only to try and show they're doing something against republicanism as well as loyalism."
However, PSNI Assistant Chief Constable Steve Martin rejected that claim and said the task force will "follow the evidence".
"We have quite clearly stated that the Paramilitary Crime Task Force will ago across community where the evidence takes us.
"We have carried out activity against loyalist paramilitaries, in March we carried out activity in relation to the INLA up in Derry/Londonderry."
He added that whether "you're a loyalist paramilitary or a republican paramilitary, if you're involved in crime then the task force will be coming for you".
Meanwhile, a search in the Holyland area of Belfast, targeting a suspected brothel, resulted in the arrest of a Romanian man on suspicion of human trafficking and controlling prostitution.
Four woman, who are suspected victims of human trafficking, were rescued from the property and taken into police custody.
At the same time, searches were taking place in the Divis area of west Belfast.
More than eight years ago, the INLA said it was ending its campaign of violence and would pursue its objectives with exclusively peaceful means.
But the police have said the organisation remains structurally intact and now operates as an organised crime gang.
During the past year the Paramilitary Crime Task Force has carried out more than 200 searches.
As a result, 51 people have been arrested with 44 of them charged or reported to the Public Prosecution Service.