Omagh care home worker assault case thrown out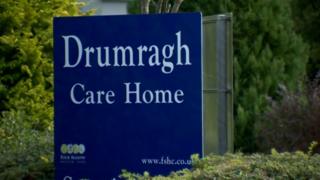 The case against a care assistant convicted of assaulting and mistreating a patient in a County Tyrone care home has been thrown out at appeal.
The case against Catrina Tummons collapsed after the Public Prosecution Service reviewed the evidence of their chief witness and found it to be no longer reliable.
Ms Tummons, from Lisnaragh Road, Donnemanagh, denied assaulting and ill-treating 86-year-old John Gormley.
He lived in Drumragh Care Home.
The Omagh care home, owned by Four Seasons Healthcare, has since closed.
'Restrained in chair'
Mr Gormley suffered from vascular dementia.
Ms Tummons had been given a conditional discharge after it was alleged that she had used a neck tie to restrain him on a chair in July 2015.
However, she maintained she was taking instruction from a staff nurse, Ntombi Sikhakhane, who has since left Northern Ireland and cannot be located.
The nurse was employed at the time by Four Seasons Healthcare through an agency.
In her evidence, the chief witness in the case, Frances Gallagher, claimed mechanical restraint was not in Mr Gormley's care plan as he had been assessed for chemical medication only.
However, as it emerged in court, no care plan in respect of restraint could ever be located for Mr Gormley.
'Intoxicated witness'
Ms Gallagher, who was the only witness in the case, was a former nurse at the care home and described herself as a whistle-blower.
Ms Gallagher told the court she was on duty at Drumragh Care Home a few days after the incident when she was approached by a care assistant expressing concerns about how Mr Gormley had been treated.
The case was later adjourned on the basis that the witness had attended court intoxicated and was not in a position to continue her evidence.
It has since emerged that Ms Gallagher is currently suspended by her professional body, the Nursing and Midwifery Council.
While the case was listed for appeal on numerous occasions and partly opened in December, a prosecution lawyer advised that, in the light of developments, the case could go no further and appeal would be resisted.
'Convictions set aside'
While defence objected to this move, the judge ruled he was required to allow one final adjournment for the prosecution to review their case, particularly as the witnesses "evidence was the genesis of the complaint".
In court on Thursday, the lawyer for the prosecution said they no longer resisted the appeal.
"The court will be aware of the recent history of this case. The PPS have reviewed all the evidence in the interim including the issues which arose around the witness.
"Accordingly, this witness cannot be put forward and her evidence relied upon. In light of this, the PPS no longer resist the appeal."
The judge ruled the convictions of the lower court were set aside and told Ms Tummons she was free to leave.