Robinson 'happy to see Wells take up post', says email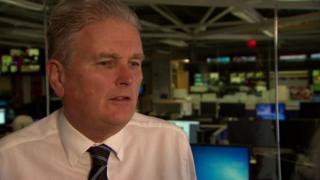 The DUP MLA Jim Wells claims an email from his former party leader shows there was an agreement he could return as health minister after he resigned.
Jim Wells stood down in 2015 saying that he was falsely accused of linking child abuse to same-sex marriage.
He resigned after meeting Peter Robinson but insisted the former DUP leader promised him that he would eventually get his old job back.
Last week, Mr Robinson told the BBC he did not make such a promise.
Since then, Mr Wells has always maintained that the party promised he could return to the Executive table.
He says Peter Robinson made a commitment - something that the former first minister rejects.
Last Wednesday, Mr Robinson told the BBC Top Table programme: "I did not make that promise. Those are not the words I used. I was much more careful about the language I used."
He added: "I indicated that he was capable of coming back as a minister, but that is very different. Let me be clear about Jim.
"I thought Jim was a good minister."
On Thursday, Mr Wells said an email, sent from Peter Robinson to party official John Robinson in April 2015, supports his version of events.
The email made reference to Mr Wells' wife Grace, who was seriously ill at the time.
In it, he writes: "I made it clear to Jim that I thought he had done a good job and if Grace returned to health and he felt able to take up this (or for that matter another) post I would be happy to see him back in government.
"Obviously, publication of this would cause several problems, but I think you are aware that I felt Jim needed time to be with Grace and that we should see to it that no impediment was placed in his being able to return to office."
Mr Wells told the BBC that his former leader "wrongly interpreted what was agreed that day on the 26 April 2015".
He said he was disappointed by Mr Robinson's comments.
"I had fallen on my sword to protect the party from a very difficult situation," he said.
"I had the reassurance I was coming back and I felt very offended that, for two years, nobody would respond to me when I asked for that promise to be redeemed."
Other emails show that Jim Wells offered to go back as health minister temporarily.
In 2015, he suggested he could return for three months and then stand down.
He also proposed another option where he was offered his old job back and then he would decline the offer - and he also threatened to resign.
'Errors of judgement'
The emails also reveal that Jim Wells increasingly found himself at odds with DUP officials.
He believes the DUP's director of communication, John Robinson, has made a "series of errors of judgement" and says they have been "reluctant to help".
In one email, Jim Wells asks John Robinson to apologise and he asks the official not to contact him again until the matters are resolved.
Mr Wells also asks for a panel to be established by the party to investigate his complaints and he suggested DUP MLA Edwin Poots sits on the panel.
The BBC contacted the DUP about Mr Wells' claims.
A spokesman said the party is aware of his remarks and will not comment on internal discussions.