Williams Industrial Services: Collapse to cost millions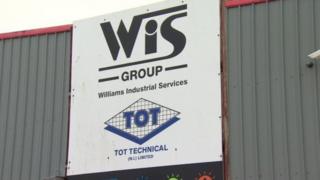 A bank and scores of businesses look set to lose millions of pounds following the collapse of a County Antrim engineering firm.
Mallusk-based Williams Industrial Services (WIS) went under in February, with the loss of all 150 jobs.
In an update, the administrators, PwC, said Allied Irish Bank "will suffer a significant shortfall" on their lending to WIS, which totalled £7m.
Scores of firms owed money by WIS will likely receive nothing.
According to documentation, these include many Northern Ireland companies, with two in County Tyrone owed a combined £1m.
Two Belfast firms are facing losses of £500,000.
However, it is understood that at least some of the firms have insurance policies that will protect them against losses.
Set up in 1983, WIS had customers in Great Britain and the Republic of Ireland.
Donegal facility
But it ran out of cash in February, blaming contract disputes.
Its major problem related to the construction of a £23m anaerobic digestion facility in Donegal.
PwC has lodged a report on the collapse of the business with Companies House.
It puts WIS's financial liabilities at £7m.
Its assets - things like property and factory machinery - are said to be worth around £5m at best.
The bank, as a secured creditor, has first call on funds raised from the disposal of assets.
PwC said that, in the circumstances, it did not think "there will be any funds available" for more than 200 businesses owed money.
At its height, the WIS had an annual turnover of £50m.
It was one of the largest providers of environmental engineering technology on the island of Ireland.