Belfast Botanic Gardens: Tropical paradise in the city
By Richard Morgan
BBC NI reporter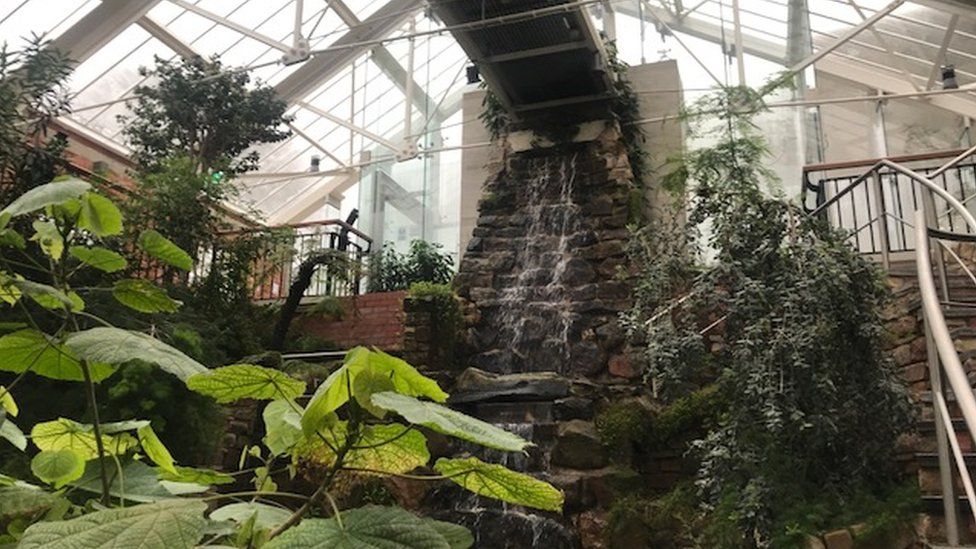 As you walk into the Tropical Ravine in Belfast's Botanic Gardens, you are transported to another world.
Those behind the redevelopment say it is an opportunity to have a true rainforest experience in the centre of Belfast.
Each area offers a range of unique plants, ferns and fruit trees.
The building, which dates back to 1887, has reopened following a £3.8m refurbishment.
The three-year project was jointly funded by Belfast City Council and the Heritage Lottery Fund.
Some of the plants on display are hundreds of years old and the process has been described as a "big challenge".
"[It was] a huge responsibility, particularly with the old plants, which had to stay here during the refurbishment," head gardener Colm Agnew said.
"We had to cocoon the plants inside a plastic bubble and give them electric heating and nurture them through the cold winter."
Some of the plants and ferns were moved to a temporary home during the project, and staff had to ensure they were cared for in their new surroundings, before being replanted in the ravine.
"You feel like a custodian and you have a huge responsibility to bring these plants through [the redevelopment] and even the replanting which started in July was challenging," Mr Agnew said.
"You are very conscious that you are planting for future generations to enjoy."
The listed building, which dates back to the nineteenth century, has been restored with many of its original Victorian features preserved.
Lord Mayor of Belfast Nuala McAllister officially reopened the Tropical Ravine on Wednesday, ahead of the public re-opening on Thursday.
"I think when people come and see it for themselves, they will agree it has been well worth the wait," she said.
Inside the warmest, and most humid part of the ravine, staff have been growing tropical fruit.
"We have starfruit, custard apples, pineapples, bananas and ginger growing to name but a few.
"The gardeners have already been sampling some of the fruit", Mr Agnew said.
The attraction has a number of interactive exhibits which will give visitors a chance to learn about the plants, some of which cannot be found anywhere else in the world.
Belfast City Council said it is expecting the venue to become a popular spot for locals and tourists alike in the months and years ahead.