Increased profits for Quinn Industrial Holdings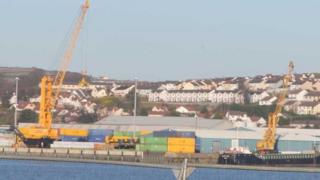 Quinn Industrial Holdings (QIH), the cross border manufacturing group, increased its pre-tax profits by 59% in 2017.
The 11m euro profit was achieved on a turnover of 209m euro, which was up 7.4% compared to 2016.
The company makes building products and plastic packaging and employs 800 people, mainly in Fermanagh and Cavan.
It was once part of Sean Quinn's empire but is now controlled by a local consortium.
Liam McCaffrey, the chief executive, said that despite the challenges posed by Brexit, the business is continuing to invest.
"Encouragingly, volume growth trends from 2017 are continuing in 2018 and at this point we are firmly on track to deliver our fourth successive year of strong earnings growth."
He said the building products division had delivered "a very robust performance" from the ongoing construction sector recovery in the Republic of Ireland.
There were also stronger sales to the UK via the firm's new cement export facility at Warrenpoint harbour.