Lakeland Dairies makes £14m profit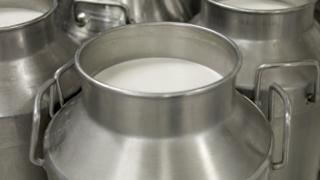 Lakeland Dairies, the cross-border agrifood firm, made a pre-tax profit of £14m in 2017 on turnover of £683m.
The company is based at Killeshandra in County Cavan but also has operations in Newtownards and Banbridge.
Chief executive Michael Hanley said there had been "performance improvements across all divisions of the business".
The bulk of Lakeland's turnover comes from its food ingredients business where turnover increased by 37%.
Mr Hanley said trading conditions had been affected by a reduction in global milk supplies.
"We were able to take advantage of these conditions through our efficient processing capabilities and worldwide market presence," he said.
"While there are challenges in the global market, it is our intention to continue to drive competitiveness and overall growth, targeting opportunities across infant formulas, dairy proteins and health-related nutritional products."
In 2016 Lakeland bought the dairy business of Banbridge-based Fane Valley.
The company said it had retained and fully maintained the milk powder and butter facility at Banbridge, which provides "continuing flexibility and opportunities in relation to any potential Brexit outcomes".