Former speaker confident assembly can be restored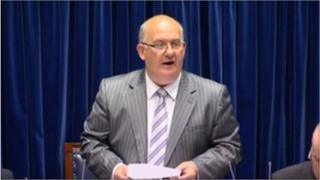 The former DUP speaker of the Stormont Assembly has said he is confident an agreement can be reached that would restore Northern Ireland's devolved government.
Lord Hay said the issues blocking power sharing are "not insurmountable."
Northern Ireland has been without an Assembly since January 2017 since a row over a botched energy scheme.
Subsequent talks between the DUP and Sinn Féin collapsed amid an impasse over a proposed Irish language act.
The former Foyle DUP MLA said the two main parties need to focus on repairing their fractured relationship.
"I think trust has broken down amongst the two main parties, and it is now about how you rebuild that trust," he said.
"You don't do it over the airwaves or in the press - it is those quiet conversations that you have with people that builds that trust."
Once trust is restored, he said , a "fair and balanced agreement" was within reach.
Resolving the impasse over the proposed Irish language act was not as challenging as the issues faced during the Good Friday agreement negotiations, Lord Hay said.
But he said it presented difficulties for the unionist community as it was proposed during talks earlier this year.
"The issues then were a lot more difficult to resolve," he said.
"The Irish Language act is almost like decommissioning, I don't hear anyone within the unionist community support an Irish Language act as it is at this time.
"In the early 90s the Assembly fell on three occasions, around decommissioning - we have to remind ourselves that we had the assembly up and running for almost ten years," he said.
Lord Hay said he believes both DUP leader Arlene Foster and Sinn Féin's Michelle O'Neill will "come to an agreement, it will just take some time."