Arts Council of Northern Ireland cuts funding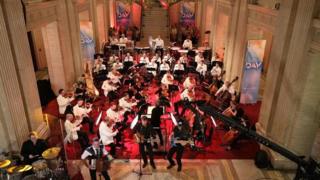 More than 40 arts organisations have had their annual funding cut by the Arts Council of Northern Ireland.
The 43 are among 100 arts groups who receive the bulk of their yearly budget from the council.
It said the money available through their annual funding programme had been reduced by 4.7% in 2018/19.
However, the Department for Communities (DfC) provided an extra £600,000 to the council to give the Ulster Orchestra and Belfast's MAC more money.
Both of those organisations had previously argued they were underfunded.
As a result, the orchestra has received about £2.1m in 2018/19, up from £1.7m in 2017/18.
The MAC (Metropolitan Arts Centre) meanwhile has received just over £1.1m this year compared to £922,500 last year.
No money
The Arts Council's annual funding programme provides arts organisations with money mainly for accommodation and staffing costs.
In addition, they get some national lottery money through the council to run events like concerts, exhibitions, plays, festivals or classes.
In addition to the 43 organisations which received cuts to their funding, the arts council was unable to give any money to seven arts groups which received annual funding in 2017/18.
They have distributed about £13.1m in total to 100 organisations, about the same amount as last year.
However, as £600,000 was effectively ring-fenced to give the orchestra and MAC more funding, the amount of money available for other organisations decreased.
The council also pointed out that there had been a substantial reduction in public funding for the arts in Northern Ireland over a number of years.
Its chairman John Edmund said this had led to difficult decisions.
"There simply weren't the resources to fund all that was asked for," he said.
"The majority of organisations were offered standstill funding or strategic uplifts, while the remainder received cuts."
Disappointment
Conor Shields from the campaign group Arts Matter NI said the cuts were a great disappointment.
"For some sectors this means a considerable loss, we are looking at 43 organisations, some of whom won't be able to come back," he said.
"These are incredibly difficult times for the arts in general in Northern Ireland."
Mr Shields said that arts spending in Northern Ireland per head of population was now below £5 per year and that that was less that half the equivalent spend in Great Britain and in the Republic of Ireland.