RHI inquiry: Cost control plans 'should not have been shared'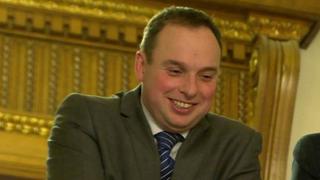 An ex-special adviser has accepted it was "inappropriate" to have shared cost control plans for the Renewable Heat Incentive with family members months before they were introduced.
Andrew Crawford resigned in January 2017 as the row over his role in the flawed green energy scheme escalated.
He had been DUP leader Arlene Foster's adviser at the finance department.
He had followed her there from the enterprise department, where she had had responsibility for the scheme.
It later emerged he had sent details of proposed cost controls to the Renewable Heat Incentive (RHI) scheme to a cousin and brother-in-law.
That was in July 2015, months before the detail was made public and the changes introduced.
'Regret'
The cost controls were needed to deal with increasing pressure on the budget as the number of applications began to steadily rise.
In the weeks between the controls being announced in September and being introduced in November, hundreds of applications flooded into the scheme crashing the budget and ultimately forcing its closure.
In his witness statement to the public inquiry, Mr Crawford said he now accepted that sharing the private information with his family members was "inappropriate in my role as special adviser and I sincerely regret having done so".
He claimed his cousin already knew changes were coming to the scheme.
The former special adviser is due to give evidence to the public inquiry on Wednesday.
The public inquiry was set up to investigate the circumstances surrounding the energy initiative after its costs spiralled.
The RHI scheme was an initiative offering financial incentives to encourage businesses to switch to using renewable fuels to generate heat.
But critical flaws meant that its claimants could earn substantial returns, far greater than intended.
'Unsolicited email'
Andrew Crawford's cousin Richard Crawford had six boilers accredited to the scheme.
Three of them were in place from 2014 and a further three were installed in September 2015 at the start of a huge spike of applications before the tariff changes took effect.
In his witness statement to the inquiry, Richard Crawford said his cousin's email about the changes had been an "unsolicited" one and it had not encouraged his 2015 application to the RHI scheme.
He said he had begun the process of ordering the equipment he needed in early 2015.
He said the fact that his applications were accredited during the "spike" was in the hands of his installer, which had handled all the paperwork.
He said Andrew Crawford had no financial interest in his business.
In his witness statement, Andrew Crawford said he also regretted sending the cost control proposals to his brother-in-law Wallace Gregg.
Mr Gregg was a dairy farmer who was considering investing in renewable technology. He did not install any boilers and is not in receipt of subsidy.
Andrew Crawford said his decision to send the information to Mr Gregg was also inappropriate and he regretted it.