Education Authority identifies more schools for closure or merger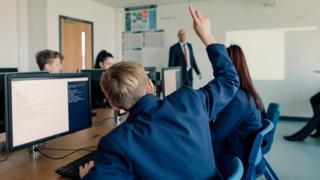 The Education Authority has identified 27 schools which may close or merge due to "sustainability" issues in 2018/19.
That is on top of about 40 schools judged to be in a similar position last year.
The list features in the Education Authority's 2018-19 action plan which sets out the proposed changes.
However, some other schools named in the plan are set to increase their pupil numbers.
The Education Authority (EA) works with other bodies including the Council for Catholic Maintained Schools (CCMS) and the NI Council for Integrated Education (NICIE) to plan school provision going forward.
In many areas there are too many school places for the number of pupils, while in other areas there are not enough places.
The plan has, for example, identified the need for more places in Catholic and integrated schools in the Castlereagh and south Belfast areas.
The financial position of a school and how many pupils it has can be used to decide if a school is sustainable or not.
The Department of Education's (DE) sustainable schools policy states that primary schools should have 140 pupils in urban areas and 105 pupils in rural areas.
Of the 827 primary schools in Northern Ireland in 2016, more than a third had fewer than 105 pupils.
Meanwhile 93 out of 197 post-primary schools had fewer than 500 pupils - the minimum number recommended by the DE.
'Small and successful'
Other factors in deciding if a school is sustainable are quality of educational experience, strong leadership, accessibility and strong links with the community.
However, any decision to close or merge schools is subject to consultation.
For example, consultation is about to begin on plans to close or merge the majority of special schools in Belfast.
Merging or closing a school can also take a number of years, and there are about 20 school closures or mergers proposed in 2017/18 which have been carried into the 2018/19 plan.
The EA also warns that the proposals have been drawn up in the context of pressures on the education budget.