RHI inquiry told boiler 'earned £35k in one year'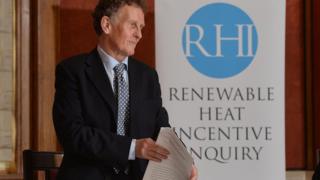 An official has denied Department of Agriculture staff kept the lucrative nature of the RHI scheme to themselves as their 'interests lay with farmers'.
Cathal Ellis, a renewable energy expert with the department, told an inquiry the suggestion had no foundation.
It emerged the department understood the very generous nature of tariffs eight months after its 2012 launch.
Its officials attended a 2014 event that showed a £36,000 boiler had earned £35,000 in subsidy in its first year.
However, none of that information was shared with officials in the Department of Enterprise who were responsible for running the Renewable Heat Incentive (RHI) scheme, the public inquiry has heard.
Calculations done by agriculture officials in July 2012 established that the payback period on investment in RHI boilers could be just over two years.
No reason
Mr Ellis, who is now retired, said he did not know why the calculations had not been passed on.
He said he had neither the "background or knowledge" to take it upon himself to do so.
He also denied a suggestion by inquiry chair Sir Patrick Coghlin that agriculture officials kept the figures to themselves because their "interest was with the farmers".
"Absolutely not, We had no reason to do so," Mr Ellis replied.
The calculations had been worked up by colleagues in the Department of Agriculture using statistics from two farms which had been accredited to a previous biomass scheme offered by it.
It showed that had the £25,000 biomass boiler been in the RHI scheme it would have generated more than £11,000 a year in subsidy.
Flag-up concerns
Mr Ellis said his understanding was that the tariff had been set with the additional capital cost of biomass boilers and the hassle costs of running them in mind.
He said his expertise was with technical matters rather than finance or policy and it would not have been his job to flag concerns to colleagues in the Department of Enterprise.
Mr Ellis said the payback periods and the income generating potential of the subsidy had been included in presentations he delivered at events which Enterprise officials also attended in 2013 and 2014.
It also included a case study which showed the installation of six boilers on a single poultry site.
The inquiry was told that the Department of Agriculture had promoted RHI at 58 events between November 2011 and October 2015 which were attended by 2,358 people.
Mr Ellis said many of those events were general renewable energy seminars and not specifically about the RHI scheme.
The inquiry was told that agriculture officials had visited the farm of John Gilliland in December 2014.
'Pure profit'
Mr Gilliland was an early adopter of biomass technology and runs a wood chip business.
Several of his boilers were not in the scheme, but one which was had cost £36,000 and generated £35,000 in subsidy in its first year.
Inquiry counsel Donal Lunny said it should have been clear that if the subsidy was repaying the capital cost of the boilers in one to two years, then the remainder of the 20 year term would be "pure profit or overcompensation".
Sir Patrick Coghlin said he could not understand why short payback periods had not started "alarm bells of considerable volume ringing" with officials in agriculture.
"The impression I'm getting is that it was simply very good for farmers, and very good for mushroom growers and poultry people and `let's keep it going`."
With respect to poultry businesses with a payback period of three years on investment, he asked: "This may be useful heat so far as the birds are concerned but is it a useful way of using public money?"