'IRA spy' Stakeknife: Scappaticci legal bid quashed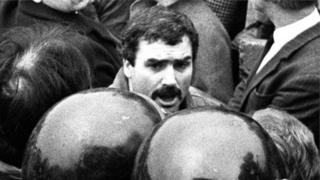 A legal attempt to overturn a decision not to prosecute the alleged "IRA spy" Fred Scappaticci for perjury has been dismissed.
Fred Scappaticci is said to have lied under oath in 2003 when he said he was not the agent codenamed Stakeknife.
The Public Prosecution Service (PPS) believes perjury was committed but decided not to press charges.
The father of a man alleged to have been killed by the agent wanted that decision to be declared unlawful.
Frank Mulhern's son Joseph was shot dead by the IRA in January 1993.
It has been alleged Fred Scappatici was the Army's most senior agent in the IRA at that time.
But two judges on Tuesday rejected his application to legally challenge the ruling.
"We do not consider that the decision can be described as unreasonable or irrational such as to render it unlawful," they said in their judgement.
Lord Chief Justice Sir Declan Morgan and Judge Justice Keegan referred to the fact that a major police investigation into the alleged activities of the agent will include the allegation of perjury.
They quoted correspondence from the man leading the Operation Kenova inquiry on the possible implications if the PPS was to bring a prosecution before his investigation is completed.
Jon Boutcher, the Chief Constable of Bedfordshire police, is leading the investigation into the agent codenamed Stakeknife.
'Breach of the code'
He told the court: "Operation Kenova represents the best and most reliable means of getting to the truth and the matters within our terms of reference, including the perjury allegation."
In a letter to Mr Mulhern's legal team in May last year, the PPS pointed out that the issue was now the subject of police investigation.
The judges said the core question was whether it was reasonable for the director of public prosecutions to defer a decision pending the conclusion of Operation Kenova.
"We do not consider that the actions of the PPS are in breach of the prosecutorial code," they said.
"In fact we consider that it would arguably be a breach of the code to pre-empt the outcome of Operation Kenova and make a decision without being fully informed whilst that investigative work is ongoing."