Good Friday Agreement: Warning of 'threat' to peace deal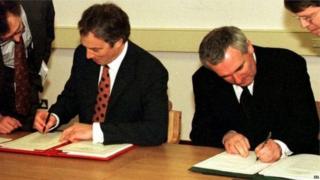 Five former Northern Ireland secretaries have signed a letter warning a hard border in Ireland could threaten the Good Friday Agreement.
The letter was published in the Times on the 20th anniversary of the deal.
It was organised by pro-European campaign group, Open Britain, and signed by the former Labour ministers, Peter Mandelson, John Reid, Paul Murphy, Peter Hain and Shaun Woodward.
It said those who value the Good Friday Agreement should "speak up".
The Good Friday Agreement was signed in April 1998 and helped bring an end to 30 years of sectarian conflict, known as the Troubles.
It was ratified in a referendum on both sides of the Irish border in May 1998 and set up a power-sharing assembly to govern Northern Ireland by cross-community consent.
"Imposing a hard border between north and south as a result of Brexit would disrupt this settlement, upset the political balances central to it and overturn the popular consent that endorsed it," the letter said.
"In the coming months the government's commitment to the Good Friday Agreement will be tested.
"The government must put aside partisan interests and act in the interests of all by prioritising its commitment to peace in Northern Ireland above its desire to have Brexit at any cost."