Calls for 'return to spirit of Good Friday Agreement'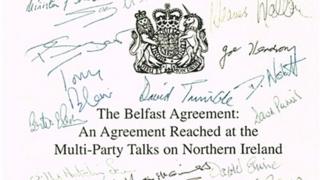 The former leader of the Ulster Unionist party, Reg Empey, and SDLP leader Colum Eastwood have said Northern Ireland needs to return to the values of the Good Friday Agreement.
The men were speaking on the BBC's Good Morning Ulster programme on the eve of the 20th anniversary of the deal.
The Good Friday Agreement was signed in Belfast on 10 April 1998.
Lord Empey said he was "disappointed" that its full potential had not been realised.
He said that Northern Ireland was "a better place" as a result of the deal, but that the agreement was essentially "taken over" by the St Andrew's Agreement.
"The agreement which was embraced by people is not the agreement which is now operating," he said.
'Disgrace'
The St Andrew's Agreement paved the way for the return of power-sharing to Stormont in May 2007, when Ian Paisley and Martin McGuinness became Northern Ireland's first and deputy first ministers.
Mr Eastwood said he agreed that "what happened at St Andrew's was a disgrace".
"It led to further polarising of our politics and that has been very damaging," he said.
"We have to get back to the spirit of the Good Friday Agreement, the idea that it is about partnership and recognising that we have a conflicted space in terms of our politics.
"We have to recognise that compromise needs to happen every day in order to get things done."
Mr Eastwood said the "stakes are high" with Northern Ireland currently facing challenges over Brexit, long hospital waiting lists and strained school budgets.
"We have forgotten a lot of the lessons that we learned and there is is no future in what we have now," he said.
"What we are left with no are minor issues in comparison to those faced twenty years ago and it shouldn't be beyond us to get them resolved."