NI newspaper review: Double killer convicted and Clinton honour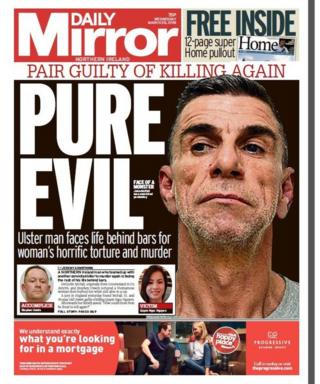 The face of a Northern Ireland man convicted of the murder of a woman who was found dead in a burning car, looms large on the front page of the Daily Mirror on Wednesday morning.
Under the headline 'Pure Evil', the newspaper reports that William John McFall, 51, originally from Greenisland in County Antrim, but who lived in Blackpool, posed for a selfie after killing Quyen Ngoc Nguyen.
Her body was discovered in Shiney Row, near Sunderland in August.
McFall was convicted of murder along with Stephen Unwin, 40, of Houghton-le-Spring. The court heard that both were convicted killers who had met at prison in Kent and got in touch via Facebook after they were both released on licence.
McFall had murdered an 86-year-old woman with a hammer in Greenisland in May 1996, when she disturbed him during a burglary. He admitted murder and was jailed in April 1997 and released on licence in October 2010.
The Belfast Telegraph front page asks why he was was set free to kill again and quotes Alliance's East Antrim MLA Stewart Dickson who says those who decided McFall was fit to return to society "have a heavy burden to bear".
The front pages of the News Letter and the Irish News report that the jury in the trial of two Ulster rugby players accused of rape will return to Belfast Crown Court on Wednesday to continue their deliberations.
Judge Patricia Smyth told the jury on Tuesday that, at this stage the "only verdict I can accept is a unanimous verdict".
The judge also reminded jurors not to discuss the trial with family or friends, or look at the press or social media.
Paddy Jackson, 26, from Belfast's Oakleigh Park, is charged with one count of rape and one count of sexual assault. He denies the charges.
Stuart Olding, 25, from Ardenlee Street, Belfast, is also charged with rape. He too denies the charge.
Blane McIlroy, 26, of Royal Lodge Road, Belfast, is charged with one count of exposure. He denies the charge.
Rory Harrison, 25, of Manse Road, Belfast is charged with perverting the course of justice and withholding information from police. He denies the charges.
The News Letter also reports that a Belfast City Council committee has voted to give the Freedom of the city to Bill Clinton and George Mitchell, despite opposition from the Ulster Unionists.
The SDLP had made the proposal to recognise the men's "role in the peace process".
However, Ulster Unionist councillor David Browne said his party's opposition was "no slight" on Mr Clinton and Mr Mitchell, but he thought it was "strange" that two people "from outside this country" were being recognised, but "the two people who did the heavy lifting, John Hume and David Trimble, were not added into this".
Sinn Féin councillor Deirdre Hargey said that if political figures from Northern Ireland are included "you're not going to get consensus right away".
SDLP councillor Tim Attwood said Mr Hume was not included in the proposal as he would have had to "respectfully decline" the freedom of Belfast.
The Daily Mirror has an interview with a Belfast man who says he is lucky to be alive after a one-punch attack in Australia on New Year's Eve.
Michael Hyndman, 23, was placed in an induced coma by doctors after the altercation in Sydney and required 47 stitches to his head.
He has urged people to think again before getting involved in such incidents.
"It was a completely unprovoked attack and my injuries were the result of just one punch," he said.
"I feel it is important that people fully understand the consequences of throwing just one punch, as in this case it is this one punch that almost cost me my life."
The Irish News reports that the bill for damage to roads and bridges in the north-west from last August's floods could be as high as £12m according to a report by the Department for Infrastructure.
Drumahoe, Eglinton and Claudy were among the areas affected by the floods on 22 and 23 August.
'Miami mansion'
The report has made a series of recommendations. It notes the absence of a multi-agency co-ordination centre last August and that a yellow weather warning failed to indicate the scale of the threat.
One of the key recommendations is that a new online mapping system should be established to report and display "real or near real-time" emergency flood calls.
On a lighter note, if you have more than a few pounds down the back of the sofa you might be interested in Northern Ireland motor racing driver Eddie Irvine's Miami Beach mansion which is on the market for a cool £21m.
The Belfast Telegraph reports that the property has seven bedrooms, seven bathrooms, a wine cellar, sliding glass walls, and a dock big enough to accommodate a 130ft yacht.
The outdoor pool, with views over Miami, has its own hot tub and if you get bored with that, you can always catch the Formula One in the cinema.