What is the Good Friday Agreement?
By Jordan Kenny
BBC News NI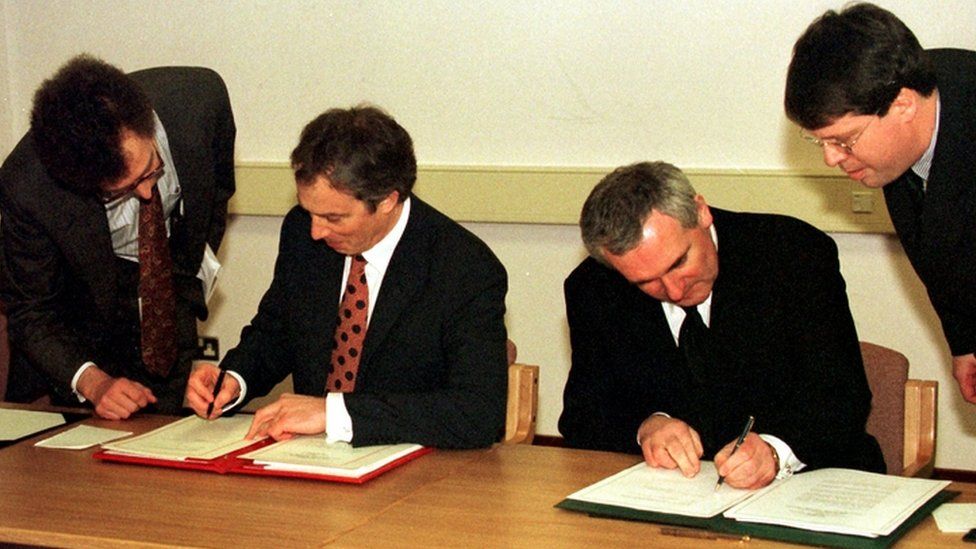 The Good Friday Agreement, The Belfast Agreement.
An agreement that can't even agree on its own name - the irony.
Northern Ireland has lived with this agreement for 20 years and its name (in whatever form) is never far from the tips of our politicians' tongues.
But do younger people, who have never experienced life without it, even know what it is?
"The talks that ended the Troubles... I think."
That was among the responses offered cautiously when BBC News NI asked young people - some as young as 18 - 'What is the Good Friday Agreement?'
"I know it was a peace agreement," said another.
"It was something to do with the Northern Ireland peace process."
The Good Friday Agreement was signed on 10 April 1998 after intense negotiations between the UK government, the Irish government and Northern Ireland political parties.
Among other things, it set up a power-sharing Northern Ireland Assembly.
Other main points in the agreement were:
A council was to be set up to help Northern Ireland and the Republic of Ireland work together on matters like farming and health.
A council was to be set up to promote the relationship between Britain and Ireland. In pop culture terms, this would be like Liam and Noel Gallagher arranging an Oasis reunion to put their troublesome past behind them.
Dual British and Irish citizenship - to allow the people of Northern Ireland to hold either a British or Irish passport, or both.
However, the agreement also came with its own wave of controversy.
Part of it would see the early release of paramilitary prisoners who had been in Northern Ireland jails.
Some 428 paramilitary prisoners from both sides of the community were to walk free, 143 of them had been serving life sentences for things like murders and bombings.
A referendum (similar to Brexit, but definitely not Brexit) was held on both sides of the Irish border for the people to decide whether or not they wanted the agreement.
The result? A resounding 'Yes'.
Some 71% voted in favour of the agreement in Northern Ireland and 94% voted in favour of it in the Republic of Ireland.
After elections in June of 1998, the all-new Northern Ireland Assembly was formed.
It met for the first time on 1 July and David Trimble and Seamus Mallon were elected as first and deputy first ministers.
As one young man said of the agreement: "Erm, I've never heard of it. No idea. Don't know what it is".