Freedom of Belfast for Clinton and Mitchell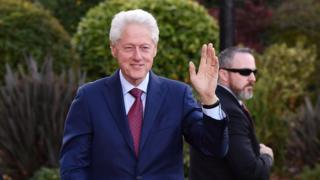 A Belfast City Council committee has voted to give the Freedom of the city to Bill Clinton and George Mitchell.
The SDLP made the proposal to recognise the men's "role in the peace process".
A special council meeting will be called at a later date to officially confer the honour.
The Ulster Unionists opposed the move saying it was "really a 20th birthday present for the Good Friday Agreement and that's not what the freedom of the city should be all about".
Ulster Unionist councillor Chris McGimpsey called the proposal "a dog's dinner."
He said the award was politicised and that the matter had not been handled appropriately: "This is a gimmick, it is almost a stunt."
The SDLP leader on the council Tim Attwood said it was "disappointing" that the Ulster Unionists had voted against the plan saying it was "a good day for the city".
​He said both Senator George Mitchell and President Clinton played hugely important and significant roles in the peace process:
"Senator George Mitchell was seen as the honest broker between all sides in the talks process.
"He steered the talks process through difficult and challenging time and at some considerable personal cost, away from home at a time of family bereavement and when his wife was pregnant.
"Another person who was a constant on the road to peace, was President Bill Clinton who gave his unwavering commitment to achieving peace even before he was elected President in 1992," he added.
Alliance Party Councillor Emmet McDonough-Brown described the UUP's opposition to the award as being a "slap in the face for the Good Friday Agreement".
Both President Bill Clinton and his wife Hillary are considered by many to have been long-time supporters of the Northern Ireland peace process and have made several high-profile visits in both official and personal capacities.
There is speculation President Clinton will attend an event in Belfast next month to mark the 20th anniversary of the Good Friday Agreement
Former US senator George Mitchell chaired the talks that led to the 1998 Good Friday peace agreement.
They will be the 83rd and 84th recipients of the Freedom of the City of Belfast.
Meanwhile former SDLP leader John Hume has declined an offer of the Freedom of Belfast.
His wife Pat Hume said: "On behalf of John and I, I would like to thank all who have made this kind offer in relation to the freedom of Belfast City.
"However, on this occasion John will have to respectfully decline."
The actor and director Sir Kenneth Branagh received the freedom of Belfast in January
Previous recipients of the award include the poet Michael Longley, musician Sir Van Morrison and athlete Dame Mary Peters.