Five arrested after gun attack in Newry, County Down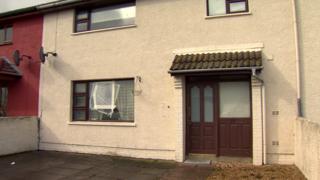 Five men have been arrested after a gun attack in Newry, County Down.
Police said a shot was fired at a house in Altmore Gardens at about 21:20 BST on Monday.
No-one was injured in the shooting. During follow-up inquiries, police detained five men and seized two cars.
Sinn Féin MLA Conor Murphy said the shooting was "highly reckless" and that police suspect it was part of a feud in the Traveller community.
"People in this community want peace and quiet in their lives, they don't want this type of activity going on.
"This is a community area - families, old people, people with young children are living in this area and to have this type of incident happen in this area has caused a lot of shock, distress and annoyance to local people."
Sinn Féin councillor Liz Kimmins said the shooting was an "extremely reckless act which endangered the lives of those in the house".
"Our community is fortunate that we're not dealing with a tragedy and there is anger about this criminal incident," she added.