Coleraine man jailed for throwing vomit at nurse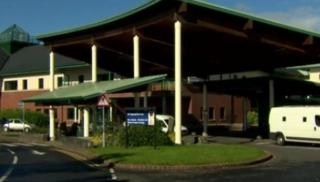 A man who threw a bowl of vomit over a nurse at Coleraine's Causeway Hospital has been jailed for four months.
Gavin Logue, 35, a joiner with an address at the Simon Community, Coleraine, appeared at the town's Magistrates Court on Monday via videolink.
He admitted assault and being disorderly both at the hospital and earlier in Portstewart.
The incidents happened on 7 February and 8 February 2018.
A prosecutor said police received a report of two males being disruptive at a shop in Portstewart where they were knocking items from shelves.
Logue was taken to hospital because he was intoxicated and had minor injuries.
'Unsavoury and disgusting'
He was abusive towards police and medical staff attempting to treat him and was shouting and swearing.
The prosecutor said the defendant then "threw a bowl containing his own vomit at a nurse, striking her and causing the vomit to go on her body and leg".
A defence lawyer said is client accepted it was an "unsavoury and disgusting act".
When sober, he said his client was "a decent individual".
He said Logue had been intoxicated to a high level when he committed the offence and had "no memory of this incident".
He told the court the defendant was in breach of two suspended sentences and that pleas had been entered at the first opportunity.
Aggravating features
District Judge Peter King said the custody threshold was "well and truly crossed".
He told Logue there were a number of aggravating features in the case including it taking place in a hospital.
The judge told Logue: "The victim is a NHS staff member who was in the process of trying to treat you".
The judge told the defendant drink was at the centre of his offending and he had amassed 36 convictions since 2005.
Jailing the defendant, Judge King added: "NHS staff will always be protected by this court even if we have to resort to prison to do that".