Derrylin fire victims formally identified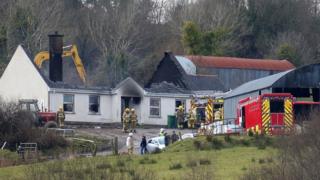 The victims of a fire in Derrylin, County Fermanagh, last month have now been formally identified.
The Coroner has confirmed established they were Denise Gossett, 45, Sabrina Gossett, 19, Roman Gossett, 16, and Morgana Quinn, who was one year old.
Earlier on Monday a court heard there had been issues identifying the bodies.
Daniel Allen, 27, with an address at Molly Road in Derrylin, appeared by video link at Enniskillen Magistrates court on Monday.
He is charged with four counts of murder and one of arson.
The court heard the case was at a very early stage with issues surrounding the identification of the four victims.
The court was also told that post-mortem examinations had not taken place on the victims but it has since emerged that they have been completed.
Mr Allen will appear again by video link on 23 April.
The four bodies were found after a house on Molly Road in Derrylin was destroyed in a fire last month.
They are believed to have been three generations of one family.