School sports scheme gets £750,000 boost saving 50 jobs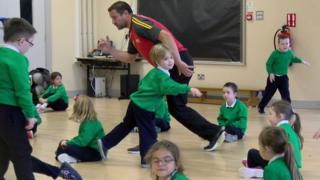 Funding for a schools sports programme has been extended until October 2018.
More than 50 coaches are employed under the sports scheme, which was due to finish at the end of this month.
The scheme provides primary schools with a coach from either the GAA or Irish Football Association (IFA).
The Department of Education wrote to both the GAA and IFA informing them that funding of £375,000 each was available to continue the programme until the autumn.
In October, 2017 coaches were issued with redundancy notices when the Department of Education informed schools it was unable to continue the programme.
At the time, the Department of Education said cuts were necessary to ensure it remained within its budget and said it was not in a position to continue the programme beyond 31 October 2017.
However, the department did manage to find the money to keep the programme running until March 2018, and gave no guarantees that it would continue beyond then.
The announcement that the sports programme is to be extended again was welcomed by both the IFA and GAA (Gaelic Athletic Association).
IFA chief executive Patrick Nelson said "it was fantastic" to hear that the funding had been extended.
"These primary school coaches work in communities across Northern Ireland and teach children the basic fundamental movement skills required for running, jumping and catching," he said.
"The children that benefit from this programme go on to play a wide variety of sports including football and Gaelic games."
Ulster GAA chief executive Brian McAvoy also welcomed the decision
"The benefits of the programme are wide ranging and introduce young children to many of the fundamental skills in life."
A spokesperson for the Department of Education said officials will be meeting with the IFA and the GAA in the coming weeks to discuss the programme.