Michelin plant in Ballymena to become business park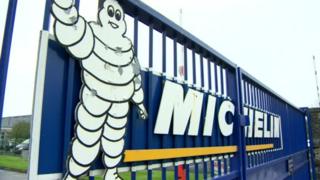 The Michelin tyre factory in Ballymena is to be turned into a business park after it closes in June, in a move aimed at boosting the area's economy.
Part of the site will also be given to the council as it bids to attract work linked to Heathrow airport's expansion.
Production at Michelin is due to stop after 50 years at the end of April.
About half of its 840 workers have left the County Antrim site during the two years since the company announced in November 2015 that it was closing.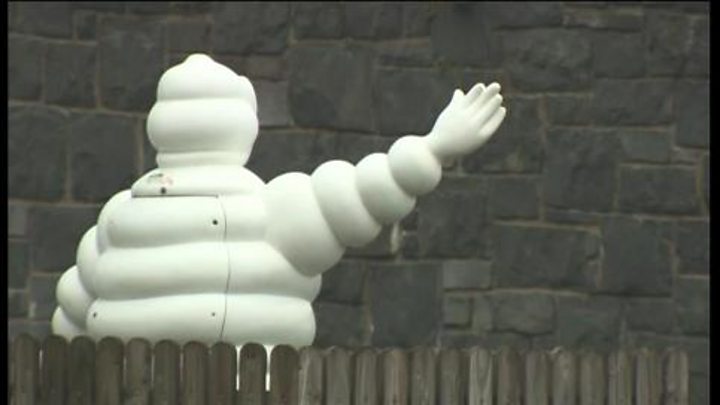 It blamed a "significant downturn" in demand for truck tyres in Europe, but had also been warning about high energy costs.
The site is being sold to Silverwood Property Developments, which already operates an enterprise park in Lurgan, County Armagh.
Michelin said it is "good news" for Ballymena as Silverwood will "create the potential for hundreds of jobs".
The factory's manager John Milsted said: "Northern Ireland has been very kind to us.
"We were sad to announce the fact we were leaving but we believe we have found a fitting future story.
"We believe we have got a good secure future for the site."
'Serious discussions'
Darren Costello from Silverwood Business Park Ltd said it is in "serious discussions" with a number of parties in the manufacturing sector regarding locating at the site,
The MP for North Antrim, Ian Paisley, hailed the development as a "brilliant message" for Northern Ireland saying hundreds of people would be employed at the site.
Ten acres of the Raceview Road site will also go to Mid and East Antrim Council.
It said it will use the land "to bolster the area's bid to host a Heathrow Logistics Hub".
Heathrow intends establishing a number of UK regional hubs to support construction work on its proposed third runway expansion.
Six locations in Northern Ireland are under consideration.
'Union overlooked'
However, the Unite trade union has criticised the business park plan, saying it is not convinced it will provide the sort of jobs which had been "promised".
John Allen from Unite said: "We actually thought we would be included in meeting the people coming on site and been involved in the announcement today, but unfortunately that was overlooked.
"Certainly for me, as far as the trade union is concerned, I don't see anything good in it at all.
"We were promised well-paid, highly-skilled jobs; good terms and conditions. I don't see that anywhere in what they've planned for the site."