Martin McGuinness portrait unveiled at Stormont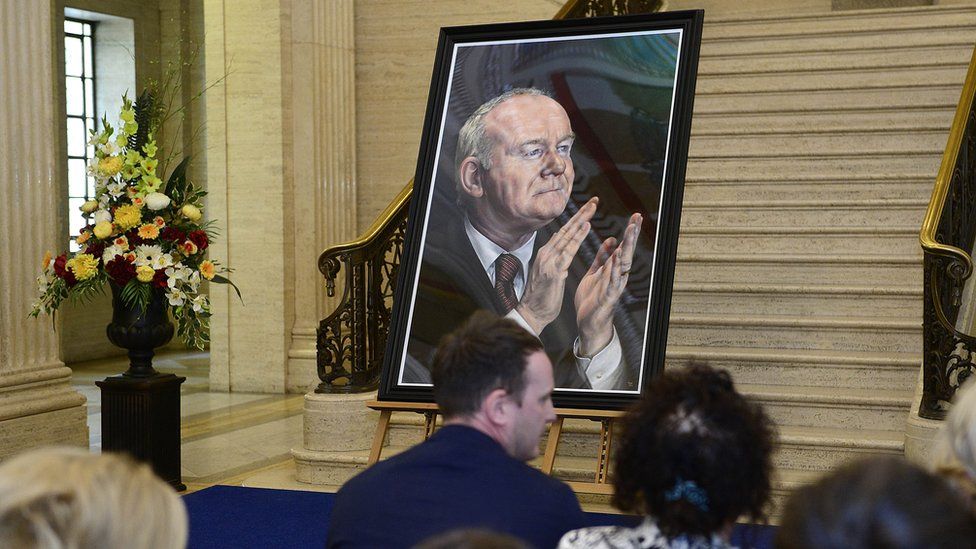 A portrait of Martin McGuinness has been unveiled at Stormont, one day after the anniversary of the former deputy first minister's death.
Mr McGuinness's family revealed the portrait, by Belfast artist, Tony Bell, on Thursday.
It will hang in the same corridors as a painting of former Northern Ireland first minister Ian Paisley.
Mr McGuinness and Mr Paisley struck up an unlikely friendship as they led Northern Ireland together.
Mr McGuinness's widow, Bernie, wept as she saw the painting for the first time and reached out a hand to touch the portrait.
Earlier, their granddaughter Cara sung a haunting version of Christy Moore's song The Voyage.
The couple's four children Emmet, Fiachra, Grainne and Fionnuala attended the unveiling, as did members of the wider family.
Mr Paisley's successor as DUP leader and first minister, Peter Robinson also attended, as did the party's current leader Arlene Foster.
Afterwards, Mr Robinson said it was "entirely proper and fitting" that a painting of a man he also came to regard as a friend should hang at Stormont.
He said the basis of their political partnership was trust.
"I don't think either of us doubted the determination of the other to make the process work," he said.
"I never had any doubt about Martin's commitment to Stormont, to the assembly, to the executive - that's a good starting point."
Mr Bell, the artist, said he wanted his work to reflect the pride Mrs McGuinness had in her husband.
"It was clear how devoted they were as a couple and as a family," he said.
"If there is to be any symbolism in the portrait it was important to me that Martin should be seen as a statesman and the leader he was.
"After that there is only one other symbol I felt had to be included - one we could all recognise.
"That was his wedding ring - the symbol of his bond with his beloved wife and family who stood with him in good times and bad - always."