Parents complain over gay forum poster in Catholic school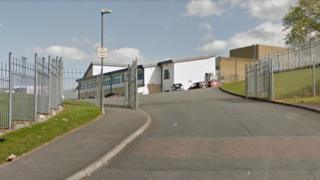 A Catholic grammar school is facing a complaint after pupils were given promotional material advertising a gay youth forum aimed at 12-25 year olds.
The parents of a teenage boy who attends St Patrick's Grammar in Armagh have lodged a complaint to the school in a letter from their solicitor.
The boy's father said he expected him to get a "Catholic education" and opposed the "lifestyle" being promoted.
The principal of St Patrick's Grammar has declined to comment on the issue.
'Vehemently disagree'
According to the Irish News, a teacher in the school asked the boy to place a poster promoting the event in a classroom.
The boy reportedly refused and later informed his parents of the incident.
Speaking anonymously to the paper, the boy's father outlined his objections to the poster.
"We are sending our children to get a Catholic education in a renowned Catholic school.
"It's promoting a lifestyle that we vehemently disagree with," he said.
The event, which is due to take place in Belfast on Saturday, has been organised by the voluntary support group, Cara-Friend.
It has been advertised as "Northern Ireland's first LGBTQ+ Youth Forum".
"All young people who identify as lesbian, gay, bisexual, transgender, non-binary, queer or questioning, and aged between 12 and 25, are welcome to attend on the day," according to Cara-Friend's website.
It said the aim is to connect, inspire, empower and give a voice to young people through a series of "motivational speakers and positive role models".
'Christian ethos'
The forum will be opened by Northern Ireland's Commissioner for Children and Young People, Koulla Yiasouma.
Cara-Friend's deputy director, Declan Meehan, praised St Patrick's Grammar as a "fine example of true Christian ethos" which had "the wellbeing of its students at the heart of its mission".
He said: "It is highly regrettable that the parents in this case felt it necessary to issue a solicitor's letter."
Mr Meehan added: "The reality is that there are LGBTQ+ students in this school.
"This poster could potentially have given support and information to someone who really needs it and, in the balancing of rights, that would outweigh any objections this one family could have as it does not detract from any rights or protections afforded them."
A spokeswoman for the Council for Catholic Maintained Schools (CCMS) told BBC News NI: "St Patrick's Grammar School is a Catholic voluntary grammar and does not fall within the remit of CCMS."