Commons passes bill on cutting MLA pay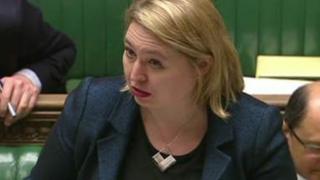 MPs have passed a bill that will allow ministers to make changes to Northern Ireland assembly members' pay and allowances.
NI Secretary Karen Bradley is seeking the legal power to reduce their pay in the absence of a power-sharing executive.
Mrs Bradley has said she is minded to reduce assembly members' pay.
But she wants to hear from NI's political parties before making a final decision.
The bill was approved and will proceed to the House of Lords.
Last December, former assembly chief executive Trevor Reaney recommended a cut of 27.5% until a functioning executive in Northern Ireland is restored.
Mrs Bradley said on Wednesday there was "clear public concern" on MLAs receiving salaries when there has not been a functioning assembly for 14 months.
She said she was minded to follow Mr Reaney's advice on assembly members' pay, but that she would not follow Mr Reaney's other advice, which was to also reduce the pay of their staff because the situation was not their fault.
Owen Smith, the shadow Northern Ireland secretary, agreed with her position.
Mrs Bradley confirmed next month's planned £500 pay increase for assembly members would not go ahead.
One subsection of the bill makes it clear that MLAs' pensions will not be affected by any temporary change to their salaries.
The subsection referred to by Mrs Bradley as "an explicit protection for MLAs' pensions" is in line with the advice provided by Mr Reaney's report in December.
Earlier this month, Mrs Bradley said she was minded to reduce assembly members' pay, in the wake of the collapse of the Stormont talks.
Northern Ireland has been without a functioning executive since January 2017.
Subsequent talks have failed to restore the power-sharing executive.
In December, an independent report recommended cutting the 90 MLAs' salaries by £13,612 in the absence of a sitting assembly at Stormont.
The report by Mr Reaney urged the Northern Ireland Office (NIO) to introduce the cut in two stages, so as not to impact on assembly members' "personal circumstances".
Last month, talks between the DUP and Sinn Fein collapsed amid unionist resistance to draft proposals for future Irish language legislation.
The Reaney report proposed cutting the MLA salary from £49,500 to £35,888, with an immediate cut of £7,425 followed by a further reduction of £6,187 after three months.