Ian Paisley calls for apology from Sir Patrick Coghlin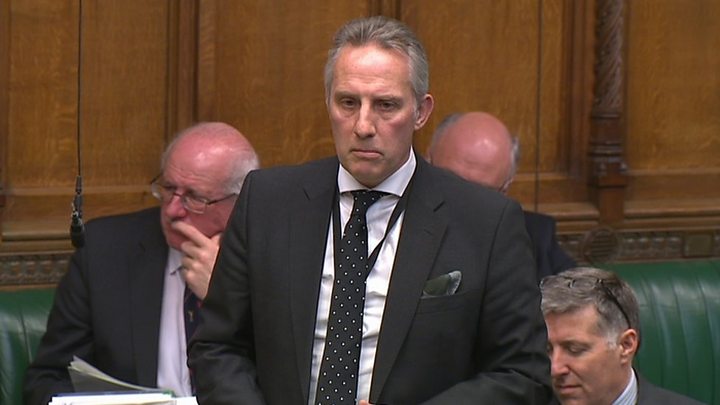 A DUP MP has demanded an apology from the chair of the RHI inquiry over allegations that he was involved in an "intimidating" phone call.
Ian Paisley said there was no truth in the allegation that he had lobbied on behalf of a boiler owner to get them moved onto a more lucrative tariff.
Mr Paisley was speaking in the House of Commons on Wednesday.
He accused the inquiry chair of "putting words in the mouth" of the witness who made the claim.
He demanded an apology from Sir Patrick Coghlin for his "conduct and his actions".
Last week, an employee of the Office of Electricity and Gas Markets (Ofgem) told the inquiry that Mr Paisley had taken part in a conference call to her.
Terri Clifton said Mr Paisley, the applicant, their representative and a representative of poultry firm Moy Park had all lobbied her to accept the application even though it had missed a deadline to be included on the more lucrative payment scheme.
Changes had just been introduced which put new applications on a less favourable tariff.
Mr Paisley told the House of Commons there was no truth in the claim and that it was a "lie".
In the course of Ms Clifton's evidence, inquiry chairman Sir Patrick Coghlin put it to the witness that phone-call had been "intimidating, perhaps deliberately intimidating".
"You were being presented with the applicants, their representatives Action Renewables, a very large poultry business and a member of Parliament," he said.
But Mr Paisley said he "took exception" to the account because it was wrong.
"No such call took place, it is a lie to suggest that such a call took place. I was not involved in any such conference call."
He said in March 2016 two companies, Action Renewables and a company called FG Plumbing did call Terri Clifton.
But he said he had not been involved in that call and neither had Moy Park.
And he said whatever happened during that call was "not of his business" as he had not been involved.
He said he considered the allegation a "calumny" and called for Ms Clifton to be brought back to the inquiry and "put through the wringer" to explain the claim.
A spokesperson for the RHI Inquiry said: "The Inquiry does not intend to engage in debate about evidence given to it, outside of its formal hearing process.
"If Mr Paisley, or anyone else has evidence that they wish to give to the inquiry, they should provide it to the Inquiry in writing."