'Out of this world' bandstand lands in Ballymena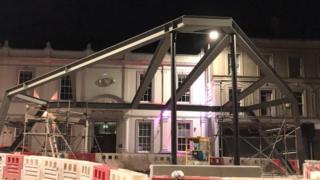 A new bandstand which has been described as something "out of this world" has landed in Ballymena under cover of darkness.
The new structure is part of the town's £4m Public Realm scheme and replaces its predecessor from the early 1900s.
Construction began on Tuesday and work continued through the night.
And while Mid and East Antrim council has welcomed the new arrival, some in the town have likened it to a space ship or UFO.
Terri Asquith, who manages a coffee shop near the bandstand, said customers were fascinated with the frame.
"Everyone wants to know more about it," she told BBC News NI. "I think they were all just surprised at how quickly it arrived.
"It just seems to have appeared overnight."
Ms Asquith said customers had described it as "futuristic" and "out of this world".
'Not impressed'
"It does look like it might block out the sun at some stage, it is absolutely massive," she said.
"It also looks a bit out of place with the old buildings around it."
Eugene Diamond, who owns a newsagents near the bandstand saw the new arrival being installed on Tuesday night.
"Owning a shop you hear everyone talking about things like this and I have to say no-one has been impressed yet," he said.
"There's a big concrete seat under it I think it must have been made for the giant, Finn McCool."
Sherman Wright, who lives in Ballymena, said he was glad to see a "new look for the town".
"It will be used by everyone who once complained, including me," he told BBC News NI.
Mayor of Mid and East Antrim Council Paul Reid, said: "I am delighted to see the arrival of our new bandstand canopy in Ballymena.
"This ultra-modern structure, when completed, will provide a visually stunning piece of architecture in the heart of Northern Ireland's top shopping town.
"We are already working on plans for several superb events for all the family at the new bandstand, including summer markets and performances, which will bring more people into the town centre and create an excellent atmosphere around Ballymena."