Rugby rape trial: Police handling of case criticised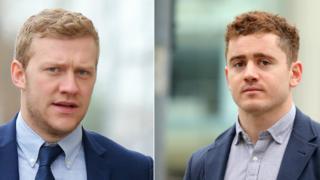 The PSNI's handling of the rape case against two Ulster rugby players has been heavily criticised in court.
A barrister representing Stuart Olding accused detectives of failing to ask the alleged victim a series of key questions about what happened.
Summing up in the trial, Frank O'Donoghue QC listed more than a dozen questions which he said should have been asked in police interviews.
Mr Olding and Paddy Jackson both deny the charges against them.
They are both accused of raping the same woman in Mr Jackson's house, in the early hours of 28 June 2016.
The woman, who was 19 at the time, told police that Mr Olding forced her to perform oral sex on him.
Mr O'Donoghue told the jury the alleged victim's evidence was "completely unreliable".
He said the oral sex "was not in any way a forced act".
Instead he said it was an "entirely consensual" act, adding that it was "perhaps one she came to regret".
The barrister said the police did not probe properly the alleged victim's allegation against Mr Olding.
Mr O'Donoghue outlined a list of more than 12 questions that he said the police should have asked, including: "Why didn't she scream the house down?"
"A lot of very middle-class girls were downstairs," he said.
"They were not going to tolerate a rape or anything like that."
'Duty to acquit'
Mr O'Donoghue said the woman's version of events was "devoid of detail".
On day 37 of the trial, Mr O'Donoghue told the 11-person jury they needed to be sure of their verdicts.
Their judgement should not be based on a whim, a gut feeling, an impression or an instinct, he added.
"If you cannot be sure... it's your duty to acquit," said the barrister.
Mr O'Donoghue told the jury that Stuart Olding was "innocent".
He said Mr Olding had "asked no favours" and "pulled no strings".
"He has never shied away from telling anyone who would listen what happened.
Earlier in the trial, the court heard that Mr Olding consumed 23 alcoholic drinks in a 12-hour period on the night in question.
Mr O'Donoghue said the fact that he told the police how much he had to drink showed he was not afraid to tell the truth.
'Such is life'
He urged the jury to "do justice" in the case and acquit Mr Olding.
He said the 25-year-old welcomed the chance to be heard by a jury so "finally, that someone might listen to him and decide what he told was the truth, warts and all".
"The reality is there was no rape by Stuart Olding. There is no case here," the barrister added.
"There was no force used. There was consent on both sides at that time - perhaps a matter of regret now, to all parties, but such is life."
The jury has been told to expect to begin deliberations next week.
The summing-up of the case continued with an address to the jury by Blane McIlroy's barrister, Arthur Harvey QC.
He said there were a series of "discrepancies" and "inconsistencies" in the version of events given by the alleged victim.
Mr McIlroy is accused of exposing himself to the woman. He denies the charge.
'Lies'
Mr Harvey said the woman distorted the truth of what happened in the bedroom to try and protect her reputation.
"Lies build on lies," Mr Harvey said.
"And if you have a sense you are about to be shamed on a network which your friends access, the first reaction is: 'How do I deal with that shame?'"
The barrister said Mr McIlroy's life had been changed by the allegation against him.
He has not been able to return to America to complete his studies.
"He's not looking for sympathy. He's looking for his legal entitlement," said Mr Harvey.
"Mr McIlroy has told the truth."
Mr Harvey rejected the prosecution's suggestion that Mr McIlroy had been part of a conspiracy to cover up the truth of what happened.
"What evidence is there of that? None, none," Mr Harvey said.
Concluding his two-hour address to the jury, he said Mr McIlroy should be found not guilty.
Denials
Mr Jackson, 26, from Belfast's Oakleigh Park, denies one count of rape and one count of sexual assault.
Mr Olding, from Ardenlee Street, Belfast, denies one count of rape.
Blane McIlroy, 26, of Royal Lodge Road, Belfast, is charged with one count of exposure. He denies the charge.
Rory Harrison, 25, of Manse Road, Belfast, is charged with perverting the course of justice and withholding information. He denies the charges.