Northern Ireland unemployment rate continues to fall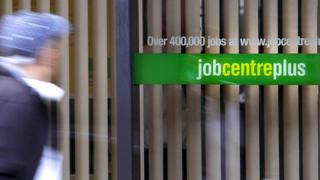 The labour market in Northern Ireland continues to improve.
The number of people in work has increased, with the employment rate rising to 69.8%, the "joint highest in the last ten years," according to figures.
The rate measures the proportion of people aged 16-64 in work.
However, it remains well below the UK average of 75.3% and is the lowest of all 12 UK regions.
'Fall' in economic activity
The data is published on a monthly basis by the Northern Ireland Statistics and Research Agency (NISRA).
It shows a fall in economic activity, which covers the number of people not looking for a job, to 27.8%.
This remains the highest in the UK.
Figures for February record a drop in unemployment by 100.
The number of people now claiming unemployment-related benefits stands at 28,700, or 3.1% of the workforce.