Special schools: Plan to close and merge Belfast schools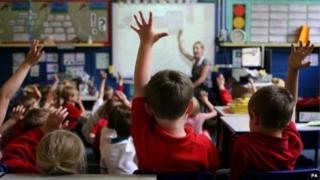 The Education Authority (EA) is proposing to close and merge seven of ten special schools in Belfast, the BBC has learned.
The plans would result in three new larger special "super schools" in the city by September 2020.
However, the move would only go ahead depending on a consultation process.
Some staff have expressed concerns about the plans to BBC News NI after principals and some teaching staff were briefed late last week.
Schools affected
The EA plans would mean the closure of Fleming Fulton school, which opened in 1957 and has more than 100 pupils aged three to 19 with physical disabilities.
Glenveagh Special School, which has almost 200 pupils with severe learning difficulties, would also close.
Fleming Fulton and Glenveagh would then merge in a new school building in north Belfast, although that has not yet been built or a site revealed.
Harberton school, which caters for 268 children with moderate learning difficulties, and Oakwood school, which caters for about 100 young children with severe learning difficulties, would also close and merge.
The new merged school would be on the existing Harberton site in south Belfast.
'Behavioural difficulties'
In the east of the city, Park, Mitchell House and Greenwood schools would close.
They would also merge in a new school building, although that also has not yet been built or a site revealed.
Each new school would have about 300 pupils or more.
St Gerard's school, in west Belfast, would remain on its current site although the special educational needs of the pupils it admits may change.
Clarawood and Cedar Lodge schools would, under the plans, remain unaffected.
All of the new schools would be expected to admit pupils from ages 3-19 with a range of disabilities.
Pupils would then go to the school closest to them, in order to reduce transport time and costs.
The proposals are due to go out to formal consultation later this year.
However, staff in some of the affected schools have expressed concern to BBC News NI about the impact of the plans on pupils.
"Many of the schools have pupils with specific disabilities and specific needs," one staff member, who did not wish to be named, said.
"Under these plans, children with physical difficulties could end up in schools alongside pupils with profound and multiple learning difficulties or emotional and behavioural difficulties who have their own specific needs.
'Really worried'
"Some of the schools are currently designated to teach very different children so would their needs be met in any new school?
"Some schools also currently only have pupils who are infants or primary age children, who would be expected to attend school with much older children.
"That will also have massive implications for staff training."
Another teacher who also did not wish to be identified said that there was concern, especially among classroom assistants, about their jobs.
"Teachers are relatively protected under these plans, at least for a couple of years, but classroom assistants I've spoken to are really worried," they said.
"Given the pupils needs our school has a lot of classroom assistants and the pupils rely on them."
The plans will, however, be subject to a formal development proposal which would involve consultation and have to be agreed by an education minister or permanent secretary before they could come into effect.