Karen Bradley says lack of devolution is costing NI jobs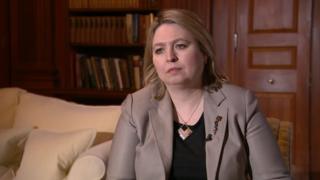 The Secretary of State for Northern Ireland has said devolution is the key to economic prosperity.
Karen Bradley was speaking from Washington D.C. where she is taking part in Saint Patrick's Day events.
Mrs Bradley reiterated her commitment to the Good Friday Agreement and to restoring devolution.
She also said repeated the government's commitment that there will be no hard border between Northern Ireland and the Republic of Ireland post Brexit.
Northern Ireland has been without a functioning assembly since January 2017.
Speaking to BBC News NI, the Secretary of State said foreign investors and businesses in Northern Ireland "are desperate" for a government at Stormont.
Mrs Bradley said she has been speaking to people in the US who "desperately" want to invest in Northern Ireland.
"The way we are going to create more jobs and the way we are going to change things for the better in Northern Ireland is through devolved government."
"It is the only way to create those jobs, that prosperity, that wealth," she said.
On Monday before her trip to the US Karen Bradley said she was "minded" to cut MLA pay in line with the Trevor Reaney report.
Rejecting suggestions she could've acted much quicker in addressing MLA salaries, Mrs Bradley said she "heard the anger" from the people of Northern Ireland, but added that she wants to hear what the political parties have to say about it.
"I have said that I am minded to implement the recommendations of the Trevor Reaney report but we need legislation to do that.
"It is not something you can enter into lightly, you need to know it is the right thing to do," she added.
As things stand, MLAs' annual salaries will rise from £49,500 to £50,000 on 1 April.
Asked whether she had the authority to stop next month's £500 pay rise she said legislation will be brought to Westminster next week to give her the power to address it.
Speaking about Brexit Mrs Bradley said there will be "no new physical infrastructure" on the border between the Republic of Ireland and Northern Ireland.
"We will develop a customs arrangement that mean goods can travel across the border," she said.
Reflecting on her recent visit to Altnagelvin hospital in Londonderry she said access to the hospital is something that must be maintained.
"Hearing about how one third of the patients at the hospital come from the Republic - that sort of thing has to be allowed to continue."