RHI inquiry: Moy Park 'consulted' on cost controls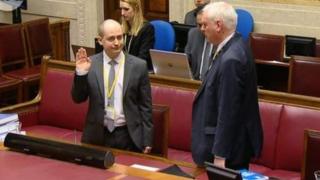 The poultry firm Moy Park was being consulted on a potential cost control measure for Renewable Heat Incentive (RHI) boilers months before it was made public, the inquiry into the green energy scheme has been told.
The witness said Department of Enterprise, Trade and Investment (DETI) officials were involved.
Dr Edmund Ward worked for the Office of Gas and Electricity Markets (OFGEM).
It was administering the scheme in Northern Ireland on behalf of DETI.
Dr Ward said he believed there were discussions up to three months before the change was announced by its minister in September 2015.
In his witness statement to the inquiry he said civil servants Stuart Wightman and Seamus Hughes had been engaged in the the contact.
They were the civil servants responsible for the scheme at that stage.
He said between May and August 2015 they had been talking to Moy Park about a possible usage cap for RHI boilers, hundreds of which had been installed by farmers supplying the poultry giant.
Dr Ward said the two men had mentioned the fact during regular monthly teleconferences with OFGEM that summer.
Dr Ward said he could not speculate on whether the information shared had affected the number of applications to the scheme.
He said he had been sent an email from Stuart Wightman on 20 July 2015 in which Mr Wightman said he was starting to get calls from the poultry industry about their plans to change tariffs - at a time when there would be no announcement of any amendment.
RHI applications rocketed in the three months between tariff changes being publicly announced in September and taking effect in November.
As many were received in the three months, as had been received in the previous three years.
Dr Ward told the inquiry he did not know if the two civil servants had told Moy Park about the proposed changes to the tariffs or when they might take affect.
But he understood they had discussed an appropriate usage cap with the poultry firm.
One was ultimately introduced in the November 2015 RHI regulations which stopped any payments after 400,000kwh of heat had been generated.