Pair in court over human trafficking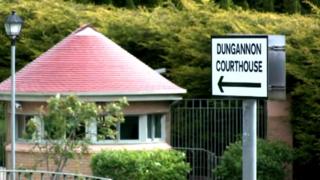 Two Hungarian nationals have appeared in Dungannon Crown Court facing a number of charges, including human trafficking.
Evelyn Covacs, 21, with a bail address at Galgorm Road in Ballymena, pleaded not guilty to the charges.
She answered three charges through an interpreter and was released on continuing bail.
The case was listed for mention in 13 April 2018.
Her co-accused, 32-year-old Gyorgy Orsos, is accused of the rape, human trafficking and the prostitution of two women.
The case is one of the first to be brought using the Human Trafficking and Exploitation legislation, which was introduced in 2015.
On Friday at Dungannon Crown Court, Mr Orsos had his legal team replaced.
A junior barrister told the court there had been lengthy consultations to try to resolve differences, but that Mr Orsos, of John Street in Dungannon, wished to seek alternative representation.
Mr Orsos has been in custody since his arrest last May.
He will be arraigned on 10 charges of human trafficking and controlling prostitution on 13 April.