Police issue Belfast St Patrick's day warning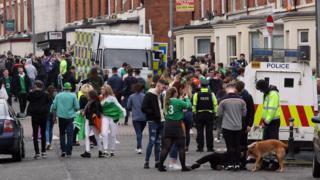 The police in Belfast have warned St Patrick's Day revellers to act responsibly.
"Any unruly behaviour caused by people who celebrate to excess, will not be tolerated," said a PSNI spokesman.
Some 15 people were arrested in Belfast in incidents linked to last year's celebrations.
Police were attacked in overnight disturbances the night before St Patrick's Day in the student-dominated Holyland area in 2016.
Supt Robert Murdie encouraged young people to stay away from the Holylands and said he expected a very busy day in the city, particularly with Ireland's rugby team targeting a Grand Slam victory in their Six Nations clash against England at Twickenham.
"In addition to the annual St Patrick's Day parade and concert on Saturday in the city centre, we have a 10K race in the morning, three band parades, a protest and some big sporting fixtures," said Supt Murdie.
"We're also expecting the pubs and clubs to be a little busier earlier in the day with the rugby match being shown on TV, so I'm appealing for everyone to listen out for traffic and travel advice and to follow the directions of police officers.
Overindulgence in previous years had led people "to act in a way they would never do when sober", he said, which had led to assaults, damage to property and annoyance to others.
"We are making it clear that this behaviour will not be tolerated," he added.
Traffic and travel advice
Drivers are advised to anticipate some traffic disruption in Belfast on Saturday and to leave more time for their journeys.
Delays or diversions can be expected at the following times and places:
Belfast City Hall - Wellington Place - Chichester Street from 09:00 to 10:00
Divis Street/ Falls Road - Grosvenor Road 09:00 to 09:40
Country-bound traffic on Divis Street will experience delays until 09:30. Access to Divis Street from Westlink will be restricted during this time
Victoria Street - Dunbar Link - Corporation Street area from 08:30 to 10:00
Queens Road Area Belfast Harbour Estate from 09:15 to 10.15
The PSNI has reiterated warnings on drink driving saying it was "determined to catch those people who take life-threatening, unacceptable, and stupid risks".
St Patrick's day has seen a rise in the number of people caught driving after drinking alcohol in recent years.
"On a typical Friday or Saturday night, we can detect between 12 and 24 people over the two days for drink and drug driving offences," Inspector Rosie Leech said.
"However, over the 17th and 18th of March in 2017, we detected 31 people, up from 20 people for the same period in 2016."
"If everyone slowed down, did not drive after drinking or taking drugs, wore a seatbelt and drove with greater care and attention then together we can save lives on our roads," she added.