Rugby rape trial: Jackson's life 'blighted'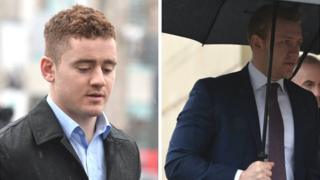 A defence barrister has told the trial of two Ulster rugby players that 20 months of Paddy Jackson's life have been "blighted" by the allegations against him.
Mr Jackson and fellow rugby player Stuart Olding both deny raping the same woman in Mr Jackson's bedroom, in June 2016.
Mr Jackson's barrister said he was not looking for any special treatment.
He said Mr Jackson was not trying to "play the rugby card".
Speaking on day 35 of the trial, Brendan Kelly QC said the evidence against Mr Jackson was full of inconsistencies.
"Twenty months of his life have been blighted by evidence of this poor quality," he said.
"He's not looking for special treatment. That's never been his pitch. Ever."
The woman's account of what happened should not be believed, added the barrister.
He told the court the woman's attitude in the aftermath of the alleged attack was: "I have to maintain the lie - vaginal rape times two, by two, because if I do not, I'm ruined."
The defence barrister accused the police of not testing the then 19-year-old woman's version of events thoroughly enough.
Mr Kelly said police notes for part of the investigation were a "shambles" and said that, rather fully test the woman's evidence, the investigation resembled a "rubber-stamping" exercise.
"You test as a police officer," he said. "Your job is to investigate.
"You can't rubber-stamp," he added.
He made the remarks as he summed up in the case. The prosecution made its closing speech on Thursday.
'Extraordinary' witness
Mr Kelly began by focusing on Dara Florence, the young woman who briefly came into the bedroom during the alleged attack, saying the significance of her "extraordinary" evidence should not be under-estimated.
Her opinion was that it did not look like a rape was taking place.
"Dara Florence is absolutely central to this case," said Mr Kelly.
The fact that Mr Jackson and Mr Olding did not try to hide what they were doing when she came into the room was significant, he added.
"When people commit crime, we all know this, it's common sense, they tend to hide, they try and conceal what they are doing," he said.
"What did these two 'violent rapists' do when a witness walked in, 'rumbling' what they were doing? They invite her to join in."
Mr Kelly also asked the jury to ignore the headlines of "rugby rape" and to instead consider the evidence.
"A defendant need play no part in a criminal trial," he said. "Some defendants choose to give evidence.
"In this case Mr Jackson and his co-defendants have all given evidence. No one has hidden. No one has tried to conceal. Everyone has got up, with their good character, and given their account,"
The defence barrister said there were differences between what the alleged victim told the police and what she told a doctor.
"There are clear inconsistencies with the accounts," he said.
"If we have the truth, why the inconsistencies?"
Last week, Mr Jackson gave evidence in the case. Mr Kelly said it was the first time he had been in a witness box in his life.
Mr Jackson, 26, from Belfast's Oakleigh Park, is charged with one count of rape and one count of sexual assault. He denies the charges.
Mr Olding, 25, from Ardenlee Street, Belfast, is also charged with rape. He too denies the charge.
Two other men have also been charged in connection with the case.
Blane McIlroy, 26, of Royal Lodge Road, Belfast, is charged with one count of exposure. He denies the charge.
Rory Harrison, 25, of Manse Road, Belfast, is charged with perverting the course of justice and withholding information. He denies the charges.
The 11-person jury has been told by Judge Patricia Smyth to to return to court on Wednesday.