Co Armagh ATM attack: Two-year sentence for co-accused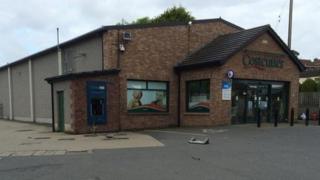 A man has been jailed for unlawfully and maliciously conspiring to cause an explosion at an ATM in Hamiltonsbawn, County Armagh, in 2014.
Ioan Anton, who is originally from Moldova, has an address at Terryglassog Road in Eglish, Dungannon.
The 40-year-old pleaded guilty to the charge at Newry Crown Court in November 2017.
On Thursday, he was sentenced at Dungannon Crown Court to two years, one year of which will be on licence.
Delivering the sentence, the judge said that in the early hours of 5 June 2014, there had been an explosion at the ATM.
Army technical officers had found that a crowbar had been used to gain access to the machine.
CCTV images showed two men arrive at the scene, by which time the camera had been sprayed with a substance that made the images blurry.
DNA evidence
A car with a Republic of Ireland registration was later involved in a collision on the Mullabrack Road just outside Hamiltonsbawn.
The DNA of 41-year-old Gratian-Ioan Pinter was recovered from the vehicle. Pinter received a six-year sentence in October 2016 after pleading guilty to his role in the crime.
Twelve hours after the incident, police stopped a car in Keady, in which Ioan Anton was travelling. He told police that he had bought the vehicle that morning in Dublin.
A receipt from a branch of B&Q was found during a subsequent search of the car. CCTV footage showed Ioan Anton in the store, where he purchased a battery that was used in the ATM explosion.
In court, the judge said that the accused had played a lesser role in the explosion than Pinter, and that he "purchased a number of items knowing they would be used in the explosion, for which he was paid a fixed fee".
The judge added: "This was clearly a planned and premeditated offence motivated by financial gain. I accept that his [Anton's] role was peripheral but it is still a very serious matter.
"The maximum sentence for the offence is three years. I feel a two-year sentence is appropriate. That is one year in custody and one year on licence."
'Deterrent to others'
PSNI Inspector Will Brown has welcomed the sentencing of Ioan Anton and the prior conviction of Gratian-Ioan Pinter.
"The sentences handed down to them at court should act as a deterrent to others.
"We will continue to actively seek out these individuals and bring them before the courts," he added.